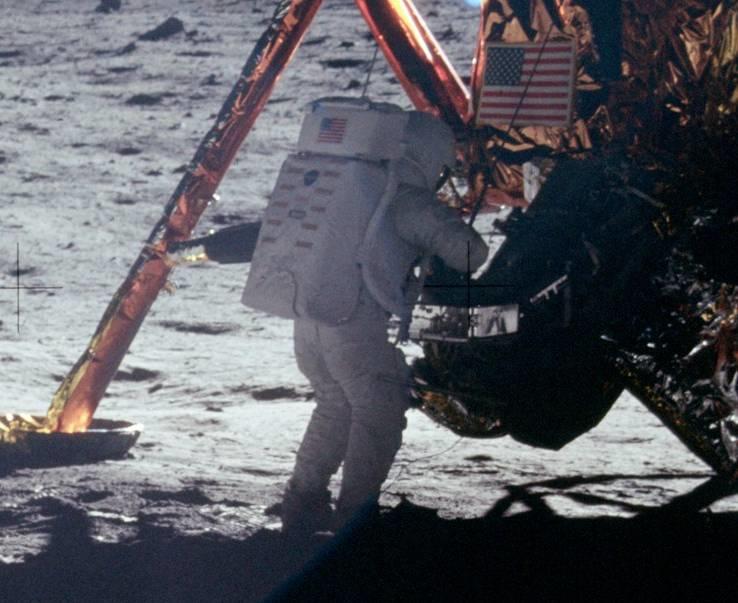 NASA
The Smithsonian Institution is turning to the public for help preserving one of the most important artifacts in the history of space exploration.
Through a Kickstarter campaign, the Institution hopes to raise $500,000 to preserve the spacesuit worn by Neil Armstrong during the Apollo 11 moon landing. Smithsonian officials plan to have the spacesuit fully restored and on display at the National Air and Space Museum in time for Apollo 11's 50th anniversary in July 2019.
You might think that a suit designed to protect the human body from outer space would stand the test of time with little assistance -- not so, according to Smithsonian officials:
"Spacesuits are among the most fragile artifacts in the Museum's collection. The Apollo suits were made to take astronauts to the Moon and back safely -- not to last hundreds of years in a museum," the campaign reads. "To provide public display and access, Armstrong's spacesuit requires conservation to stop current deterioration and a state-of-the-art display case that will mimic the climate-controlled environment where it is currently being safeguarded."
Of course, $500,000 isn't a small chunk of change -- the Smithsonian's project is far more detailed than a simple restoration of the suit. The project also includes 3-D scanning and digitalization of Armstrong's suit, a process which museum curators say will "revolutionize the way we interact with and learn from the artifacts in our collection".
Click here to learn more about the Smithsonian's campaign
Learn more about Apollo 11: