Great white sharks are more than just a cool animal to Kelly and Mike Bluemthal and their newborn son, Finn. The apex predators of the oceans represent resilience -- a fighting spirit that keeps them positive, even in the toughest of times.
"Shark Week is so important to my family! We named Finn 'Finley' because it means 'warrior', and we call him Finn - like the fin of a shark!" Kelly tells us via email. "Sharks are the king of the ocean and the strongest, just like Finn."
Finn was born with TAPVR, Pulmonary Stenosis, DORV, Complete AV Canal Defect and Heterotaxy, a complex combination of heart abnormalities that have left him fighting the odds -- and winning.
Doctors first delivered the news of Finn's cardiac condition back in August, when Finn's heartbeat was undetectable during a routine ultrasound. Doctors informed Mike and Kelly that their son was missing five critical structures in his heart, likely caused by Down syndrome or Trisomy 18. Specialists recommended that Finn undergo genetic testing to confirm the presence of said genetic abnormalities, a test which requires an agonizing two-week waiting period before results can be delivered.
The first miracle of Kelly's pregnancy arrived after the harrowing two weeks of waiting: all of the genetic tests came back negative. Finn's medical problems were confined solely to his heart, and there were absolutely no other genetic problems with the pregnancy.
However, doctors reminded Kelly that Finn wasn't out of the woods yet: should Finn survive beyond birth, he would require substantial medical care, including open-heart surgery and significant daily assistance from medical devices. Nonetheless, Kelly and Mike decided to fight the odds and go to term with the pregnancy.
Their bet paid off: on January 2 of this year, two loving parents and an enthusiastic older brother welcomed Finley Noah into the world.
Now seven months old and recovering from a recent heart surgery, Finn's fighting spirit has kept him (and his parents) pushing. According to Kelly, his daily treatment entails balancing his fluids and managing his pain -- Finn is currently fighting reoccurring fluid around his lungs, so fluid management is integral to his health. Doctors are also keeping Finn on a regimented diet because, as Kelly quips, "nutrition is everything, just like for sharks!".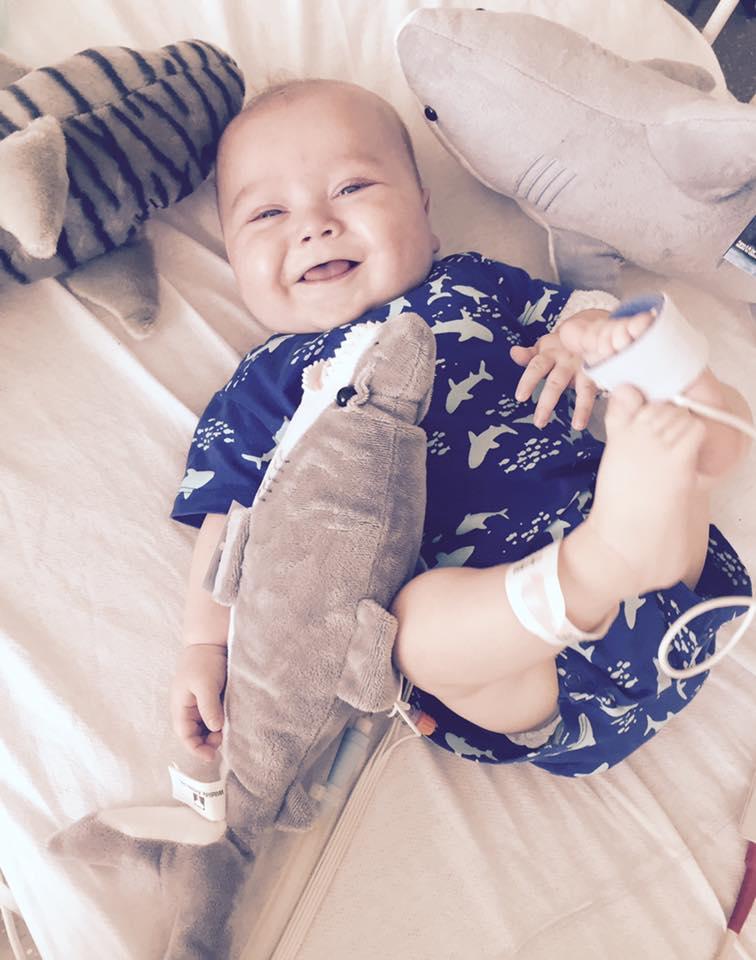 For now, things are looking up for Finn. In spite of the trials and tribulations of his seven short months of life thus far, his infectious smile continues to serve as a constant reminder that every day is a blessing.
"Being a mother is the greatest gift and experience I could have ever been given -- no matter what challenges are placed in front of me, I want to do everything I can to help Finn to have as normal a life as possible and experience everything that his older brother Mason has," Kelly says. "I want him to look back at his hospital stays when he is older and see joy instead of struggle, fun instead of suffering. I want him to talk about the sharks in his crib and not the tubes in his chest. If I can accomplish this, then I would feel so much peace. He deserves a beautiful life."
Unfortunately, the beautiful life that Finn deserves doesn't come without a cost: the family has racked up a significant stack of medical bills throughout the course of Finn's treatment. Mike and Kelly have set up a GoFundMe campaign to help defray the cost of Finn's medical treatment. To date, the campaign has raised nearly $30,000, a feat which is not lost on Finn's family:
"I have found the strength through other families who allow me to not feel alone; that is huge. Whether it's a broken bone or heart disease, no parent ever wants to see their baby hurt or sick so having the support of others is very comforting," Kelly says.
Now, nearly a year after her remarkable journey with baby Finn began, Kelly offers sage advice for anybody battling a hardship, large or small: "Everything is alright in the end. If it's not alright, it's not the end. Keep the faith, accept help if it's offered, lean on others and just keep swimming. You're never EVER alone in this."
Click here to like Finn's Facebook page and receive daily updates on his condition