Sharks
The Man Who Discovered Air Jaws: Chris Fallows
by:
Check out a clip of Chris Fallows in action from Shark Week 2010 -- the article continues below the video:
You may know
Chris Fallows
from Shark Week. Chris has worked with sharks since commercial shark cage diving began in South Africa in 1992. His passion and knowledge about these animals is second to none. Two decades ago, Chris discovered that great whites breach, as seen on Shark Week's
Air Jaws
specials. He appears in Shark Week 2015's
Ninja Sharks
, premiering Wednesday, July 8, and is our official
Shark Finbassador
for Thursday, July 2.
Q: How did you get started working with sharks?

A: I have always had a huge passion for wildlife, and from the age of 2 was exposed to African wildlife in many forms. In 1991, I tagged a great white which had been caught by seine net fishermen and took the information to the White Shark Research Institute, who offered me a volunteer position which I filled for 4 years before starting my own operation with a friend, Rob Lawrence in False Bay. A few years later, together with my wife Monique, we started a company which specializes in taking people out to see the famous hunting and breaching great whites of False Bay. This company is called
Apex Shark Expeditions
, which we still run today.
Q: Why do you work with sharks -- what inspires you?
A: To be honest I love all wildlife, but have spent most of the past 25 years working with great whites and as such have got to know them fairly well. The more you get to know about them the more fascinating they are, and the more you see they have individual personalities and also a vulnerability that is often overlooked. Quite simply they are survivors. They are at the apex of their world as predators and they are just magnificent creatures that we are privileged to spend time with.
Q: You essentially discovered the breaching sharks of South Africa. What was it like making this incredible discovery?

A: It was amazing no doubt. I can remember the day well nearly two decades later. We were in my 10-foot inflatable boat five kilometers from land towing a tiny yellow life jacket around Seal Island, not really expecting anything to happen, when boooooooom! A tiny great white, an eight-footer, rocketed into the sky with the life jacket across its jaw like a crazy Jack Russel chewing on a big bone.
We retrieved our life jacket once the shark spat it out, tied it on again and once again, this time a far bigger 12-foot shark, launched skywards. The rest as they say is history.



Q: What was going through your mind the first time you saw a great white breach?
A: Big sharks aren't supposed to jump! It is bizarre to see a really big shark go flying, sometimes 10 feet clear of the water. It is also really amazing to see how athletic they can be.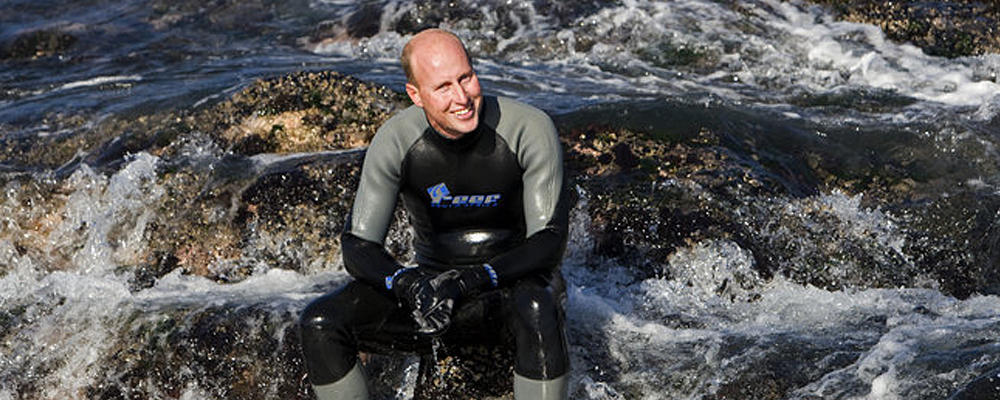 Read more
Read less
Chris Fallows getting ready to swim with sharks for Shark Week 2010's Ultimate Air Jaws.
Chris Fallows

Q: What's been the highlight of your career so far?
A: In June 2000 we had the amazing opportunity to watch a minimum of 28 different great whites feed on a Brydes whale carcass over an 18 hour period. We saw 16-foot sharks feeding alongside each other, we watched eight great whites feed simultaneously together, and we saw social behaviour and interactions unlike any we were used to. It was simply the most remarkable experience and it took place right next to our boat - incredible!



Q: What's your advice for people who aspire to work with and around sharks?
A: Follow your passion, do what you love in life. I can't believe as I sit typing this email at Gansbaai, where we are currently shooting another Air Jaws documentary, that I started working with great whites here 25 years ago. It goes by in the blink of an eye. I remember as a wild-eyed guy in my early twenties not sleeping with excitement at the thought of going out to Dyer Island to free dive with great white sharks in huge seas. It was wild, it was adventure and we made it happen with very limited resources. Get out there, follow your heart and make it happen. Believe in yourself and treat the wildlife with respect throughout your journey.



Q: Why are sharks important?
A: Not only do they have a direct impact on the food chain by feeding on fish, mammals and many other organisms, but they have an indirect effect as well. Their predatory presence alone causes many species to avoid certain areas; this in effect helps keep balance, keeping other species from overfeeding in an area or dominating a system. Aside from the unquestionable importance of apex predators from a biological point of view, great whites and other super predators enrich our lives by simply being "out there." This adds so much to the lives of those of us who want to engage in our own senses - quite simply we need animals in the world that inspire emotion, be it fear or excitement. Without them it is a pretty sterile world.



Q: What's your favorite species of shark and why?
A: Great whites for personality, power and so many incredible memories that made my career. Mako sharks for beauty and perfect design. And oceanic whitetip sharks for mystery and all that is free in their inky blue world.



Q: How has technology, including camera technology, helped to shape how we see sharks in recent years?
A: Quite simply, technology has brought what we see in the field on a daily basis into the living rooms of those far away. In so doing, this has given people who would otherwise never see a breaching great white the thrill of the raw power, poise and grace of these huge animals. Shark Week has given so many people exposure to sharks and set them on their way to wanting to take that next step to getting closer and doing what they can to protect them.



Q: What's your "go to" camera when photographing or filming sharks and why?
A: My go-to camera is my Canon 1DX with a 70-200 f 2.8 lens. Fast, fairly versatile and light enough to easily handhold for very long periods. I would say that 90% of all my shots of any consequence have been shot with this lens. If I had to pick one camera that I loved over all the others, it would have to be my EOS 1v film camera. That was my first Ferrari of the camera world and hearing that 10 frame a second burst was a great thrill. Sometimes I would let the shutter burst carry on for a bit longer than necessary - hell, who cared, it was a great feeling. It was also the camera that I took the shot with that transformed my photographic career.