Captain Elliott Neese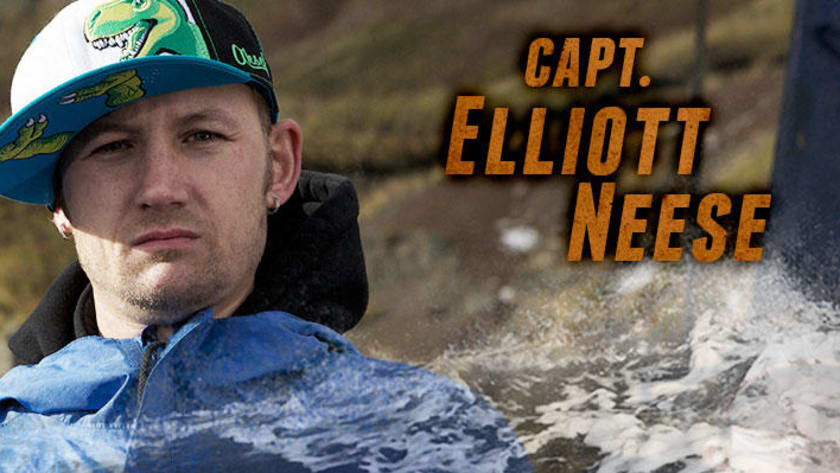 Elliott Neese is the youngest captain in the fleet, but he's no rookie to the high seas.
He began fishing at age 12 and, at 19, ran his first cod boat. He's been coached by some of the best captains in the fleet.
Elliott says he runs a tight ship and expects hard work and dedication from his crew. Even though he's young, Elliott cuts his crew no slack, and keeps them on a tight leash both at shore and at sea. Elliott has been known to leave the wheelhouse in the hands of his deck boss and go down to the deck to throw the hook.
Last year, Elliott proved that he could be a successful captain, boat owner -- and maybe a recovering addict. We saw a replay of drama with his ex Val, which included Elliott being served papers demanding $50,000 in child custody back pay. This caused Elliott to be on his phone more than usual, even while operating the crane, which put his crew in danger.

All his drama sent him on a bender: He was late for the start of Bairdi season, which fueled his dad and crew to urge him to go to rehab. He did. Today Elliott says he doesn't have a problem, and won't admit to having needed rehab (only for his cell addiction, not drugs).

The season ended in a victory for Elliott who won joint custody of his kids. Now he sees his kids more than Val, whom he speaks with sporadically. And he's still seeing Jessica, his girlfriend who came aboard last season to cook and tend to his kidney infection.

Elliott compares crabbing to relationships: "One day it's the best in the world, and the next day it's the worst." Sounds like fishing bairdi might not be totally out of the question.
More Saga Bios:
Captain Jake Anderson
|
Ray Flerchinger
|
Mike Pereira
|
Brandon Ahrndt
|
Nick "Sunshine" Tokman
|
Wade Moore
|
Saga (Boat)
|
All Saga Bios