Freddy Maugatai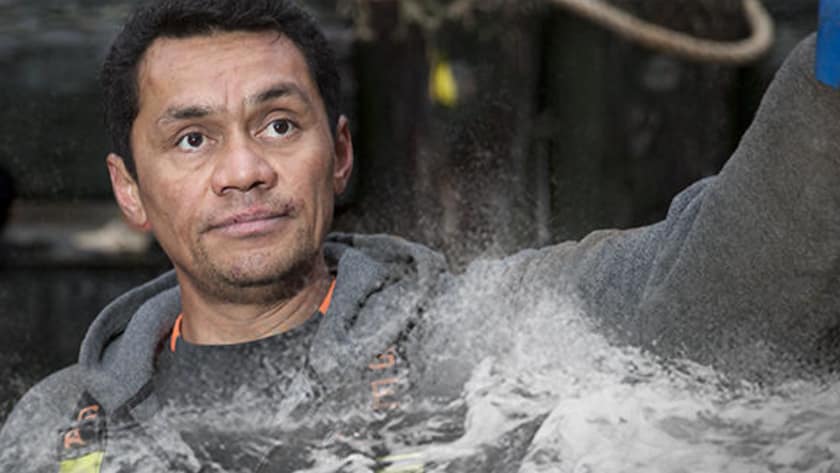 First one on deck, last one to leave, this Samoan's work ethic is exactly what a captain would want in a deckhand -- though that doesn't mean Freddy is a no-nonsense guy himself.

A former hand on the Cornelia Marie, Freddy brought positive energy to the Wizard crew, embodied by his cod blood bath ritual and the mohawk haircuts he gave his fellow deckhands for good luck.

Freddy seamlessly meshed with the stout crew of the Wizard until he drank too much and missed the Wizard's departure for Bairdi. Feeling disrespected, Relief Captain Monte Colburn fired him.

Now the Wizard's loss is the Time Bandit's gain. Coming aboard the already crowded deck, Freddy's expertise at the rail could disrupt the hierarchy established among the young crew. Freddy's positive energy and spontaneity (he once jumped onto a dead walrus at sea), should fit right in with the Time Bandit.

Wearing his emotions on his sleeve, Freddy's attitude is a good barometer for the mood of the crew. Look to Freddy for great positive, and unpredictable, moments on deck.
More Time Bandit: Captain Johnathan Hillstrand | Captain Andy Hillstrand | Neal Hillstrand | Axel Hillstrand | Eddie "Eddie Sr." Uwekoolani, Jr. | Eddie "Eddie Jr." Uwekoolani III | James Tommy | Kyle Dyerly | Phillip Hillstrand | Freddy Maugatai | Time Bandit (Boat) | All Time Bandit Bio