Deckhand Jon "Biggins" McDaniel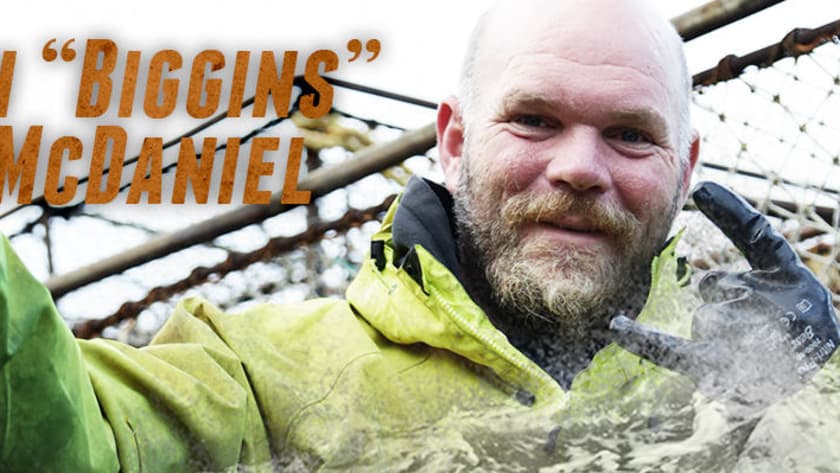 Fifteen years ago, Johnathan Hillstrand put out a word in the local bar that he was going to be fishing lobster on the East Coast and needed a few hands. "Biggins" jumped on the opportunity and has been in Maine ever since.

About 6-7 years ago Hillstrand and Jon worked together aboard the Debra Dee. After plowing through a bad ice flow, the boat was hit with an iceberg, and water rushed in. It was the fourth boat Jon had been on that almost sank in a 5-year period -- is this guy bad luck?

He just got back from offshore lobster fishing in New Hampshire, his first time being a captain. With experience in both kings and opies, he plans to only fish kings this season, as the winter is a good lobster season, but is excited to be back fishing crab in Alaska.

With a wife of 12 years and a 13-year-old daughter back home, he would eventually like to retire (although is definition of retirement is buying a tuna boat, fishing in the winter and taking the summer off -- not too shabby.)

Watch Jon banter back and forth with Johnathan Hillstrand about old fishing stories, and see how Jon meshes with the young crew.
More Time Bandit: Captain Johnathan Hillstrand | Captain Andy Hillstrand | Neal Hillstrand | Axel Hillstrand | Eddie "Eddie Sr." Uwekoolani, Jr. | Eddie "Eddie Jr." Uwekoolani III | Jon "Biggins" McDaniel | Phillip Hillstrand | Shawn Michael Zinn | Time Bandit (Boat) | All Time Bandit Bio