Deckhand Kevin Stafford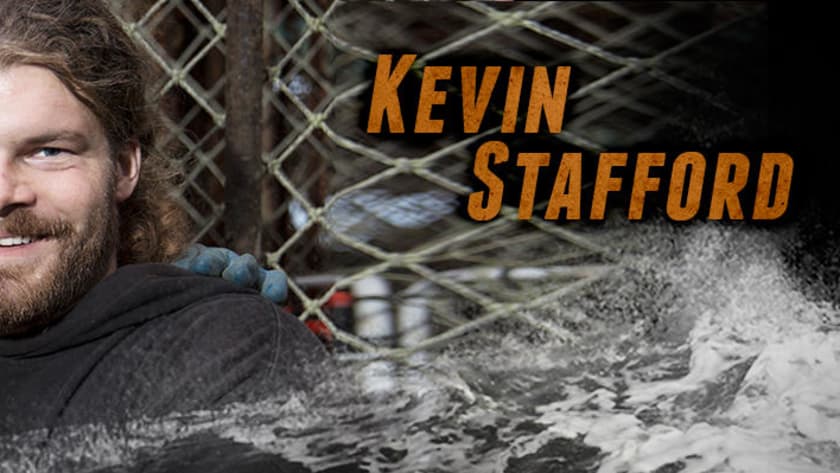 Kevin is an ambitious young deckhand with experience in other fisheries, but no time on a crab boat before the 2011 Opilio season. Like Roger, Kevin had not set foot on a crabbing boat until he joined Keith's crew. The captain took a shining to the horn and immediately praised Kevin for picking up the mechanics of crabbing so quickly.
Kevin's claim to fame -- and legitimate qualifier as a man of the sea -- was sailing solo to Polynesia in a 28-foot sailboat. That kind of accomplishment earned him points with the Wizard crew and Captain Keith, and his ability to learn quickly increased his standing.
This year will be Kevin's third stint on the Wizard. He's a tough worker who looks forward to seeing the crew of the Wizard, but just wants to grind out the season to earn a living. Ever the professional fisherman, he works away through the crab season in order to live a secluded life hunting and fishing salmon.

He recently put in an application for his captain's license, but Kevin claims he'll keep any long-term goals off the deck of the Wizard. However, watch for competition between Roger and Kevin, as they have a fierce desire to climb the ranks.
More Wizard:
Captain Keith Colburn
|
Monte Colburn
|
Gary Soper
|
Lenny Lekanoff
|
Freddy Maugatai
|
Roger Schlosstein
|
Kevin Stafford
|
Robby Schlosstein
|
Tyler Gateman
|
Robert Sanders
|
Wizard (Boat)
|
All Wizard Bios