Engineer Lenny Lekanoff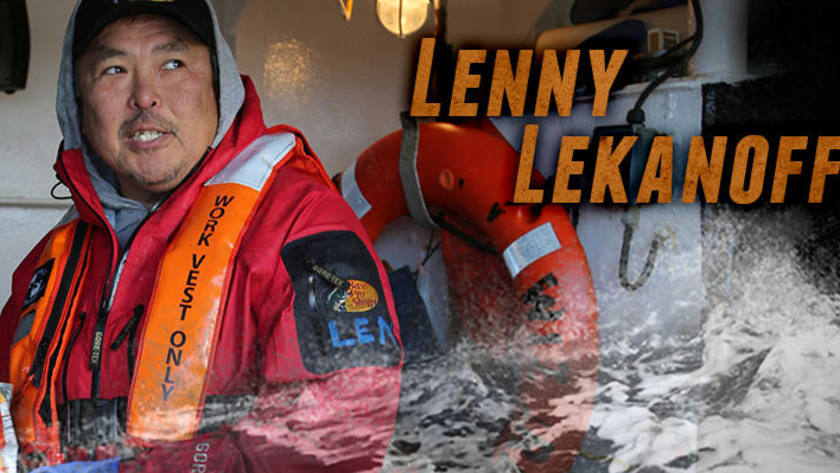 Lenny was born and raised in Unalaska (a close neighbor of Dutch Harbor) before the days when air service and the Bering Sea fisheries turned Unalaksa-Dutch Harbor into the top fishing port in the United States. Eight of his nine brothers and sisters were brought into the world by a midwife.
Lenny is a Native American-Russian Aleut, whose family has deep roots on the island of Unalaska going back more than a century. The Aleut culture has a rich and diverse history of fishing along the Aleutian chain, and Lenny's family honors their heritage by smoking and drying salmon every year.
Raised as a devout Russian Orthodox, Lenny has a wife and daughter and a very large extended family. It's a challenge to go anywhere in Unalaska without running into one of the Lekanoffs, many of whom have lived their entire lives on the island.
The opportunities to fish professionally came early for Lenny, and for the last 25 years, he's made his living fishing the waters of the Bering Sea and the Aleutian Islands. A professional crabber, Lenny joined the Wizard crew after a previous vessel that he crewed on went out of business under the government-run buyback program.
On-board, Lenny is able to take charge of all the maintenance and upkeep of the ship's systems, from the engine room to the forepeak, and yet still put in a full shift as a deckhand. Though Soft-spoken and good-natured, Lenny has proven throughout past seasons that he is tough as nails. He loves being a part of the Wizard crew and has proved his meddle time after time.
When pressed, he admits to liking Monte's laid-back management style to Keith's controlling command. That's probably because Lenny likes to give back some lip and Monte allows him to slide by with more sass than Keith would ever stomach. He praises them both as excellent fishermen and looks forward to getting on the water for the upcoming season.

Lenny has spent the last eight weeks completing a rebuild of the main and auxiliary engines. As the Wizard heads to sea, Lenny's name will be on the line as his work on the engine is tested.
More Wizard:
Captain Keith Colburn
|
Monte Colburn
|
Gary Soper
|
Lenny Lekanoff
|
Roger Schlosstein
|
Robby Schlosstein
|
Tyler Gateman
|
Amy Majors
|
Wizard (Boat)
|
All Wizard Bios