Deckhand Myles Johnson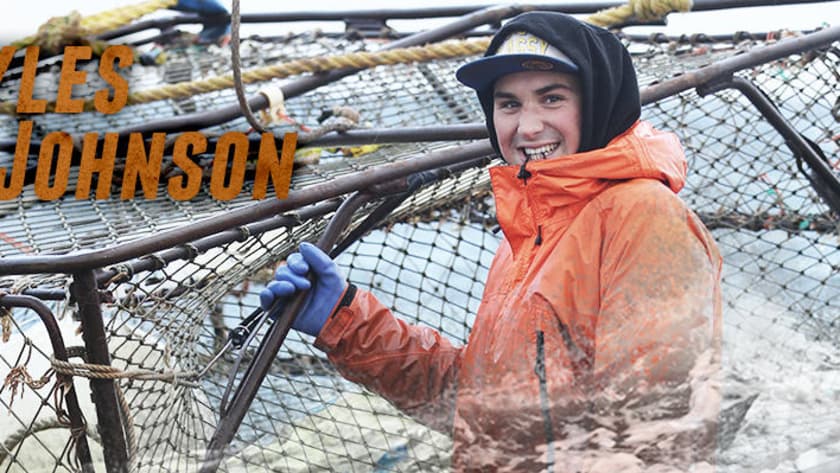 Fairly green to the crab fishery, this will be Myles's second season aboard the Cape Caution.
Myles has been fishing since the age of 16, and tendering salmon in Bristol Bay for the past few years. Zack met Myles a few seasons back while they were fishing salmon, and kept him in mind once Kelly Collins was kicked off the boat.
Luckily, Kelly set the bar pretty low, but Myles kept up and picked up the slack. Zack told him if he shows up taller than 5'10" and weighs more than 150 pounds, then he shouldn't have a problem doing so.

Last season during a heavy grind, Myles took an 800-lb crab pot right to the face and broke his nose, and after a minor concussion, he stepped back on deck and finished the season strong. But he hasn't been without his missteps. In an attempt to get off the boat early, Myles sabotaged the bait, using more, so they would run out quicker, leading to another great "Wild" backlash from the captain.
Not knowing anything about Myles before he stepped on deck, Wild Bill has accepted Myles as part of his crew and even gave him an official Cape Caution T-shirt -- but can Myles be trusted to finish the job he was told to? Watch Myles continue to try to mesh with the crew and possibly even bring out the real WILD in "Wild" Bill.


More Cape Caution: Captain "Wild" Bill Wichrowski | Nick McGlashan | Zack Larson | Myles Johnson | Dan Borovina | Cape Caution (Boat) | All Cape Cautions Bios