Zack Larson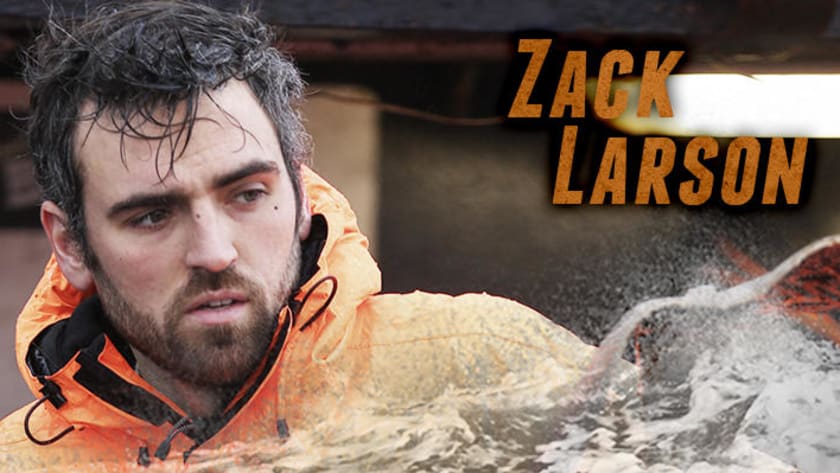 As a member of Wild Bill's bloodline, and now the oldest on the crew, expectations for Zack as a fisherman are very high.
Zack grew up in Woodinville, Washington. At the age of 13, he got his first taste of the Bering Sea when his dad invited him to Alaska for the salmon tendering season. The following summer, he returned for another season in Port Moller.
After graduating from Cedar Park Christian High School, Zack studied biology at Seattle Pacific University, and then worked as an emergency medical technician (EMT) for three years.
At the age of 25, he reunited with Captain Wild Bill on the sea. In 2010, Zack returned to commercial fishing aboard the F/V Kodiak, one of the boats featured on past seasons of Deadliest Catch. He spent two and a half years aboard the Kodiak as an integral part of the vessel's crew.
When Captain "Wild" Bill took the helm of the F/V Cape Caution in 2012, Zack joined him.
Initially, Zack struggled to embrace the life at sea and he threw in the towel multiple times. Over the past couple seasons, Zack has come to terms with his future as a crabber and he now aims to be the best on deck and hopes to one day take over the wheel.
Although Zack and fellow hand Nick McGlashan are close friends, they are also in a close race for seniority on deck. Zack has a "teach them and they will learn" mentality, while Nick throws 'em to the wolves. Watch for playful competition and banter between the two deckhands to grow into real struggle.
Zack will again tackle the role of engineer but Wild Bill sometimes doubts he's the best man for the job. Zack's eying a spot in the wheelhouse but when a problem arises, he often defers to Nick, which only serves to lower Bill's opinion of his son's aspirations.
With Zack hiring the new crew, he will likely have to bear the brunt of any criticism, and resulting wrath, from his father.
When not fishing, Zack splits his time between Seattle, Washington and Mexico. He enjoys playing sports, watching professional sports, and staying as active as possible. He has two younger siblings, Jake Wichrowski and Delia Wichrowski.
According to Zack, as long as he is near the water, he will always be happy.
More Cape Caution: Captain "Wild" Bill Wichrowski | Nick McGlashan | Zack Larson | Jerod Sechrist | Ronnie James | Hunter Copper | | Cape Caution (Boat) | All Cape Cautions Bios