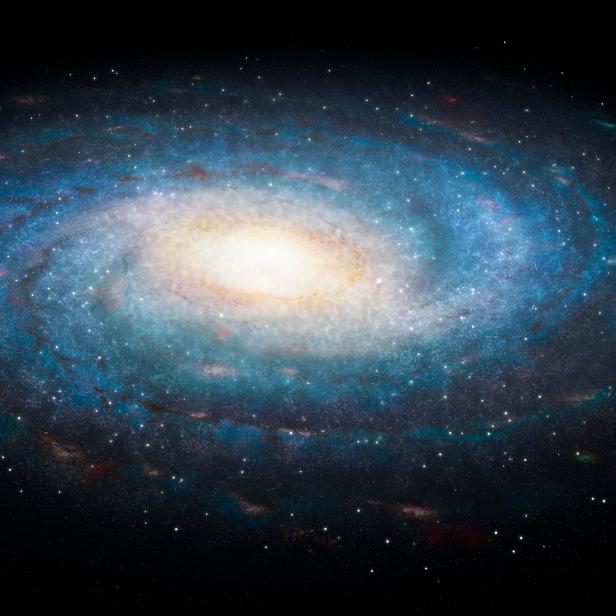 1055491850
Illustration of our galaxy, the Milky Way seen obliquely, with the arms and the central bar in their approximate known locations. There are four major arms and one arm fragment (Orion-Cygnus or Local) where the Sun is found. In the annotated version of this image, the yellow dot indicates the position of the Solar System about 25000 ly from the galactic core. The Norma and Outer arms are in fact the same, but the two names refer to different parts of it. The same is true of the so-called 3kpc (3 kilo-parsec) arm, which further out becomes the Perseus arm.
MARK GARLICK/SCIENCE PHOTO LIBRARY
Explore the World and Beyond Sans Travel
With one click you can go from being under the sea to outerspace! Take a look below for a list of amazing places you can experience virtual wonder.
You don't have to leave your couch to take the family on an adventure. Explore land, sea, air, and beyond with these amazing virtual experiences.
Swim the deep blue sea at the Georgia Aquarium, from home! The main attraction? A live cam from the largest tank in the US, the Ocean Voyager Gallery, that includes manta rays, whale sharks, and thousands of other sea creatures. But don't forget to check in on the otters, beluga whales, puffins and more.
There is wildlife abound at the San Diego Zoo, and their live cams bring you face to face with everything from owls to orangutans. And don't forget the penguin cam! These cute, fascinating animals will be sure to make you smile.
The American Museum of Natural History is a staple in NYC where many have come to visit their favorite "Icons" like the T-Rex, Warren Mastdon, and more. But you can still take the family on a tour to visit your favorite exhibits, virtually of course.
Plus, every Tuesday and Thursday at 2 PM EST, you can hop on a Live Virtual Musuem Tour with a museum tour guide or expert to explore a featured exhibit via Facebook Live. Today at 2PM EST, it's the Hall of Planet Earth. Follow American Museum of Natural History on Facebook for the latest tours.
Our friends at the Lowell Observatory in Flagstaff, Arizona have a lot for us to enjoy from home. They will be live streaming several celestial events, including one this Friday, April 3rd. Catch the Venus-Pleiades Conjunction LIVE!
Then, on April 7th, celebrate the Pink Supermoon with Lowell! Follow them on Instagram @lowellobservatory for the latest and greatest!
Take a flight, virtually, of course. Soar through the National Air and Space Museum with virtual tours and exhibits, 360 Degree 3D cams, and more!
Take a virtual tour of the entire museum. Check out every exhibit navigating your way though a map featuring interactive links that get you upclose with some awesome Air Force history.
Looking to get sucked into a world of speed, adventure, or cute baby animals? Discovery has you covered. We have so many shows free for your streaming and binging pleasure across Discovery, Animal Planet, and Science GO.