The Greek astronomer, mathematician, inventor, physicist, and engineer was a real quintuple threat. Born c.287 BC, Archimedes determined pi and its function as the ratio of a circle's circumference to its diameter. Before him, people had been using numbers like 3 or 3.16, but through experimentation with the Pythagorean Theorem, Archimedes determined that 3.14 was the number.
The implementation of the Greek letter π to represent the irrational number that begins 3.14 and continues infinitely happened in the 1700s. An irrational number is a number that cannot be written as a typical fraction, so instead of trying to write out pi to infinity we have π.
Where and When? Ancient Egypt, Babylon, and Greece
Numbers so close to pi were used in Babylon (1900 BC) and Egypt (1650 BC) prior to Archimedes' true determination of the number in Greece in 250 BC.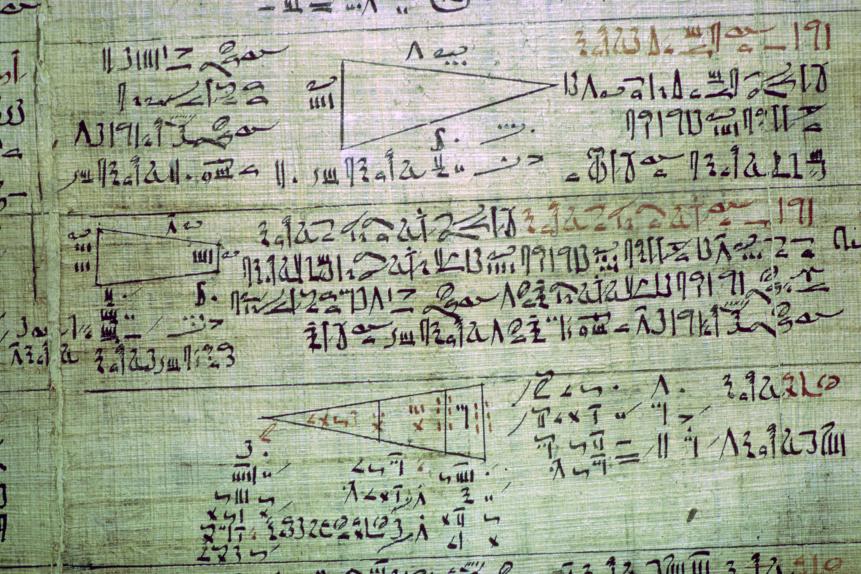 501585241
Detail of the Rhind mathematical papyrus, showing mathematical problems, from Thebes, Egypt, End of the Second Intermediate Period, c1550 BC. The text contains eighty-four problems concerned with numerical operations, practical problem-solving, and geometrical shapes. From the British Museum Collection. (Photo by CM Dixon/Print Collector/Getty Images)
Look, we aren't all determining the area of a circle or the volume or surface area of a sphere, so take March 14th as an excuse to indulge in a traditionally round, homophonic treat, pie!