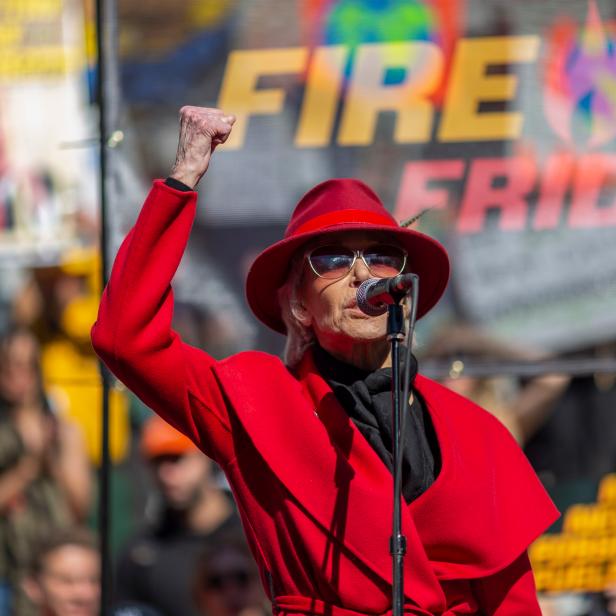 GP0STUJBI
Jane Fonda speaks during a Fire Drill Friday rally near City Hall on February 7 in Los Angeles, California. The Fire Drill Friday rallies and protest organized by activist and actor Jane Fonda move from Washington to California. The first California Fire Drill Friday speakers included: -Gloria Arellanes, a member of the Gabrieleno/Tongva Tribe; -Alicia Rivera, a community organizer with communities for a better environment; -Cesar Aguirre, a community organizer in Kern County, with Central California Environmental Justice Network; -Kevin Patel, a youth climate activist and Founder and ED of OneUpAction; -Spoken Word Poetry Performance by Oget Lit, an award-winning youth poetry troupe based in LA; -Don Martin, South LA resident who lives right next to a drill site who has lost family members to cancer; -Nalleli Cobo - A young environmental justice activist who has been using the power of her voice and the trauma of her lived experience to fight against a powerful polluter. Others helping with introductions and adding their support are: Norman Lear, Piper Perabo, Bonnie Wright, Amber Valletta, Rainn Wilson, Brooklyn Decker, Rosanna Arquette, Joaquin Phoenix, June Diane Raphael, Paul Scheer and Catherine Keener.
Action Planet Celebrates Environmental Activists
Common, Jane Fonda, Matt Damon, Joseph Gordon-Levitt, Adrian Grenier, Greta Thunberg, and others are making their discovery+ debut on Earth Day, April 22, in the new original series ACTION PLANET.
Discovery+ and NowThis will partner on ACTION PLANET, a new series produced by NowThis Earth, the recently launched NowThis vertical that focuses on planetary emergencies. Debuting Earth Day, April 22, on discovery+, the mid-form series will highlight the work of high-profile changemakers including Common, Jane Fonda, Matt Damon, Joseph Gordon-Levitt, Adrian Grenier, and Greta Thunberg.
The discovery+ original ACTION PLANET, will explore how some of the world's most well-known figures are stepping up to make a difference in the world and inspiring audiences to take action. Each 8-12-minute episode features an interview with a high-profile celebrity activist talking about organizations — including Matt Damon's Water.org, Jane Fonda's Fire Drill Fridays, and Adrian Grenier's Lonely Whale, — they've co-founded or support that are making an impact today.
"It is encouraging to see these environmental activists use their celebrity to shine a light on some of the most pressing issues of our time," says Scott Lewers, Executive Vice President of Multiplatform Programming, Factual & Head of Content, Science. "We are thrilled to leverage our new streaming platform to highlight the important work these activists and their organizations are doing to galvanize people around the globe to do their part in keeping our planet–and the beautiful creatures who inhabit it–safe and healthy."
"The planet's ongoing climate crisis and environmental justice are important issues to the passionate and engaged NowThis audience," said NowThis President Athan Stephanopoulos. "We are excited to partner with Discovery and celebrity changemakers to spotlight ways that audiences can take action to combat the human impact on our planet."
"Our top priority at Lonely Whale is to encourage behavioral change away from single-use plastics so that we course correct towards healthy, thriving oceans," said Adrian Grenier, Actor-Activist and Co-Founder of Lonely Whale. "Discovery and NowThis have created a visually compelling series profiling real planetary emergencies. We're grateful to use this new platform to educate viewers about our mission and to inspire people to make a real difference."
Young audiences are deeply engaged with coverage of the climate crisis and the issues impacting our planet. NowThis audiences are five times more likely to engage with sustainability-focused coverage than any other topic, and in the last year, NowThis audiences have racked up more than 600 million video views on coverage of the issue.
As a leader in natural history programming, Discovery will use its linear and streaming platforms to bring attention to our beautiful world with a month-long celebration of the Earth and all of the wildlife that call it home. Alongside ACTION PLANET, discovery+ will launch EXPEDITION DEEP OCEAN, FIRST TO THE TOP OF THE WORLD, THE SWIM, and CHASING OCEAN GIANTS. Discovery Channel will air marathons of the Emmy-nominated series SERENGETI and A PERFECT PLANET while Animal Planet will highlight the natural world with airings of NORTH AMERICA.