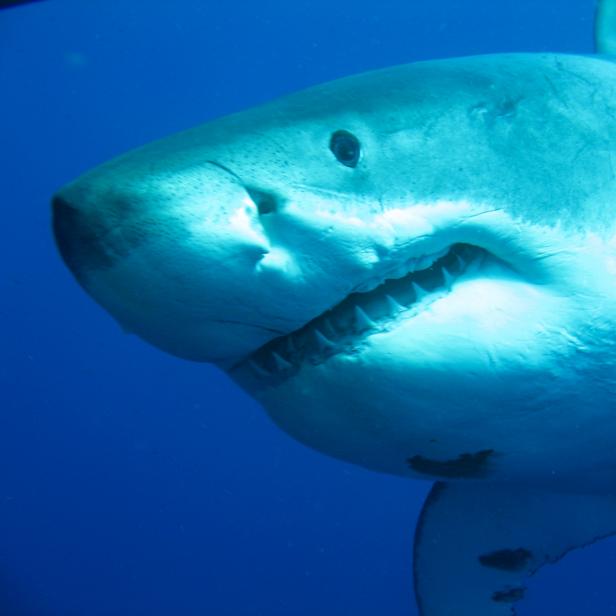 508507586
*** EXCLUSIVE - VIDEO AVAILABLE *** GUADALUPE ISLAND, MEXICO - NOVEMBER 2013: A shot of Deep Blue, the world's biggest great white shark, on November 2013 in Guadalupe Island, Mexico. UNSEEN footage of what experts believe is the biggest great white shark ever caught on camera has been released. The seven metre-long female known as Deep Blue stunned the world last year when video was unveiled of it dwarfing cage divers off the coast of Guadalupe Island, Mexico. Now, diving enthusiast Michael Maier, 48, has released even more eye-catching clips of the giant female feeding on bait and inquisitively circling divers. PHOTOGRAPH BY Michael Maier / Barcroft USA UK Office, London. T +44 845 370 2233 W www.barcroftmedia.com USA Office, New York City. T +1 212 796 2458 W www.barcroftusa.com Indian Office, Delhi. T +91 11 4053 2429 W www.barcroftindia.com (Photo credit should read Michael Maier / Barcroft USA / Barcroft Media via Getty Images)
New Study Reveals True Size of Megalodon
Scientists know great white sharks are living descendants of megalodon sharks, but what we didn't know was the true scale of the prehistoric animal. That is, until now.
Previously, the estimated size of Otodus megalodon (aka megalodon) was mainly determined from fossilized teeth. Scientists have also used the Carcharodon carcharias (aka great white shark) as the modern benchmark for size. Based on this, the thought was that the max scale of megalodon was about 15 to 18 meters.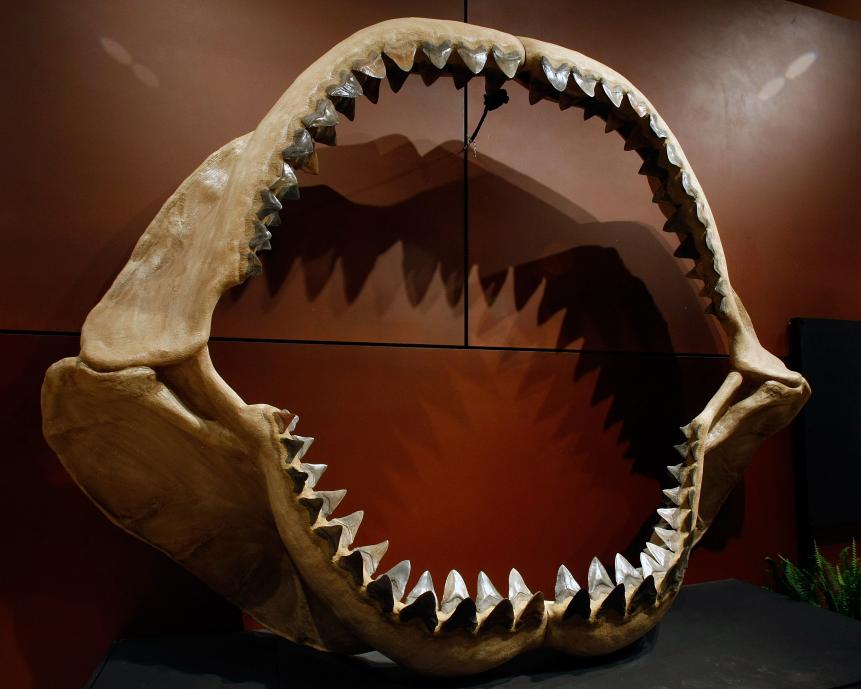 91285667
LAS VEGAS - SEPTEMBER 30: One of the world's largest set of shark jaws comprised of about 180 fossil teeth from the prehistoric species, Carcharocles megalodon, which grew to the size of a school bus, is displayed at the Venetian Resort Hotel Casino September 30, 2009 in Las Vegas, Nevada. Auctioneers Bonhams & Butterfields hope the fossil will fetch about USD 900,000-1.2 million when it is auctioned off on October 3 at the Venetian as part of their Natural History auction. The centerpiece of the lot of 50 fossils being auctioned is a 66-million-year-old Tyrannosaurus rex skeleton dubbed "Samson." The 40-foot-long female dinosaur fossil, excavated in South Dakota in 1992, contains about 170 bones and is said to be the third most complete T. rex skeleton ever unearthed. Bonhams & Butterfields is hoping Samson will fetch more than USD 6 million at the auction. (Photo by Ethan Miller/Getty Images)


But a UK research team from the University of Bristol and Swansea University has determined the overall size of the prehistoric shark. They used a mix of mathematical methods and comparisons with living relatives.


Jack Cooper, a palaeobiologist from the University of Bristol's school of earth sciences, told The Guardian that this was his "dream project." "Megalodon was actually the very animal that inspired me to pursue palaeontology in the first place at just six years old, so I was over the moon to get a chance to study it…This was my dream project. But to study the whole animal is difficult considering that all we really have are lots of isolated teeth."

According to the results of the study, megalodon was likely to be 16 meters with a head about 4.65 meters long, a dorsal fin 1.62 meters tall, and a tail 3.85 meters high! To put this into perspective, an adult human would be about as tall as just its dorsal fin. The study expanded its comparison to five species of shark to help them project the true scale of this prehistoric mega-shark once and for all.
We separate fact from fiction about this prehistoric predator who roamed the oceans over 15.9 million years ago.
Megalodon, the biggest shark to have ever lived has a cousin Megalolamna. It is, however, unclear whether this creature even existed.
Paleontologists speculate on the exact size of the prehistoric megalodon.