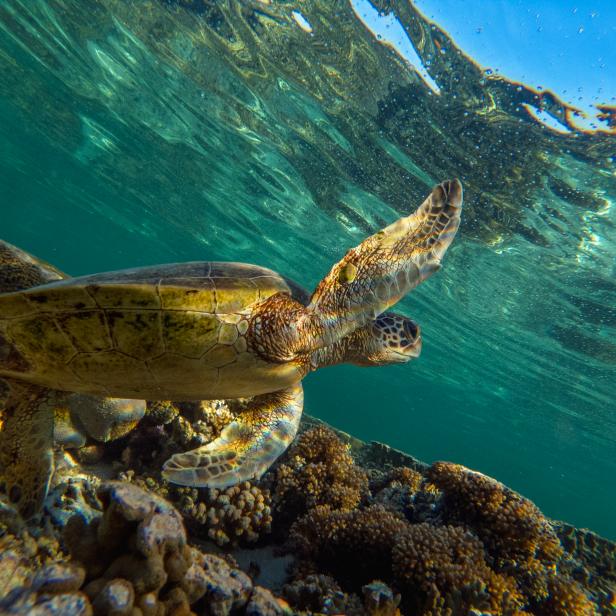 1227936274
QUEENSLAND, AUSTRALIA - 2019/10/10: A green sea turtle is flourishing among the corals at lady Elliot island. In the quest to save the Great Barrier Reef, researchers, farmers and business owners are looking for ways to reduce the effects of climate change as experts warn that a third mass bleaching has taken place. (Photo by Jonas Gratzer/LightRocket via Getty Images)
Sea Turtle Escapes the Jaws of a Shark Attack
Sea turtles are less slow and steady than we have historically assumed. On the Ningaloo Coast of Australia, a photographer captured a heroic fight between a sea turtle and a tiger shark.
Within the captured video, this determined sea turtle rapidly swims to avoid the tiger shark's jaws and flips over several times to evade capture. The tiger shark eventually gets its jaws close to the sea turtle's protective shell but does not manage to fully latch onto its prey. The tiger shark finally looks as though it is succeeding but the turtle flips once again to escape the predator. The photographer noted that he observed the turtle land on shore and survive the attack.
In this David & Goliath type fight, many would assume that the sea turtle would meet its demise but its tactful evasion shows the wonderful defensive tactics that sea turtles have. Fully mature sea turtles have very few predators including killer whales and large sharks. With lifespans ranging from 40 to 60 years old, it's no wonder why they must adapt their defense mechanisms to survive.
In the wild, sea turtles' defense mechanisms are hard to observe due to the depleting shark populations around the world, the captured video provides a unique glimpse into sea turtles' tactics. Some studies suggest that sea turtles' u-shaped diving functions as both a resting dive and a way to scan the ocean's surface for predators before coming to the surface. Their trademark hard shell helps defend their other more sensitive tissues from oncoming attacks. When protecting itself from predatory attacks, the sea turtle will strategically turn their shell in the direction of a shark's mouth to prevent a bite of its flippers or softer parts and will rapidly swim in the opposite direction to avoid being caught. This species' built-in defense helps them protect themselves against one of the most prolific predators in the ocean.