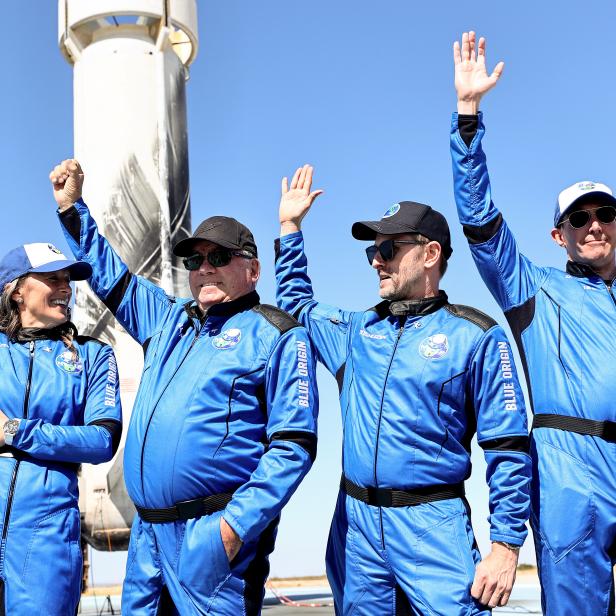 1346409510
VAN HORN, TEXAS - OCTOBER 13: (L-R) Blue Origins vice president of mission and flight operations Audrey Powers, Star Trek actor William Shatner, Planet Labs co-founder Chris Boshuizen and Medidata Solutions co-founder Glen de Vries wave during a media availability on the landing pad of Blue Origin's New Shepard after they flew into space on October 13, 2021 near Van Horn, Texas. Shatner became the oldest person to fly into space on the ten minute flight. They flew aboard mission NS-18, the second human spaceflight for the company which is owned by Amazon founder Jeff Bezos. (Photo by Mario Tama/Getty Images)
The Space Titans Are Here
Space travel isn't just for NASA astronauts now. How did we get here, and what is next in the incredible race to space? SPACE TITANS: MUSK, BEZOS, BRANSON, an all-new special streaming Thursday, November 4 on discovery+, will follow the world's most successful entrepreneurs who are putting billions of dollars on the line to launch a revolution in space.
The year 2021 will go down as the year that billionaires went to space – with highly publicized launches around their big-budget orbits. A new wave of space exploration has begun as NASA is engaging the help of private companies to send astronauts into orbit, delving even further into space exploration.
The SPACE TITANS: MUSK, BEZOS, BRANSON special is in partnership with The Washington Post and staff writer Christian Davenport, whose depth of experience allowed him to gain inside access to key players. Davenport will go inside the incredible innovations taking place right now and what's to come, including an exclusive sit-down conversation with SpaceX Founder and Chief Engineer Elon Musk.
Companies like Musk's SpaceX are taking NASA astronauts to the International Space Station (ISS) - and the space station is just the starting point. Structures like the ISS will serve as transfer stations – creating human outposts off earth, making what was once considered science fiction a reality. Other companies like Jeff Bezos' Blue Origin and Richard Branson's Virgin Galactic are making history as well by sending private citizens to space as tourists.
In this new era of private space flight, NASA will also focus on returning to the moon after over 50 years. In fact, they're developing an ambitious program to land on the moon's south pole by the year 2024. To make that journey, NASA will use its biggest rocket ever. And with the moon as a base, Mars becomes in reach as the next goal for astronauts. Musk also has his eyes on Mars and predicts that SpaceX will land humans on Mars by 2026 and establish a colony by 2050.
With the door to space now open, SPACE TITANS: MUSK, BEZOS, BRANSON is documenting a revolutionary moment in exploration. It's a moment fueled by imagination, innovation, and colossal rockets -- taking us into the final frontier of private space travel for all.