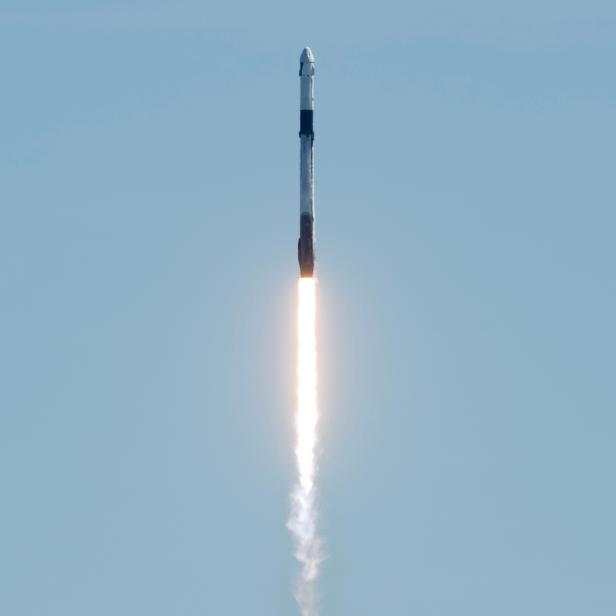 A SpaceX Falcon 9 rocket carrying the company's Crew Dragon spacecraft is launched on Axiom Mission 1 (Ax-1) to the International Space Station with Commander Michael López-Alegría of Spain and the United States, Pilot Larry Connor of the United States, and Mission Specialists Eytan Stibbe of Israel, and Mark Pathy of Canada aboard, Friday, April 8, 2022, at NASA's Kennedy Space Center in Florida. The Ax-1 mission is the first private astronaut mission to the International Space Station. López-Alegría, Connor, Pathy, Stibbe launched at 11:17 a.m. from Launch Complex 39A at the Kennedy Space Center to begin their 10-day mission. Photo Credit: (NASA/Joel Kowsky)
Axiom Lifts Off with the First Fully Private Crewed Mission to Space
Axiom Mission 1 blasted off from NASA's Kennedy Space Center today, setting the standard for commercial space travel with a first-of-its-kind mission to the International Space Station (ISS).
NASA, Axiom Space, and SpaceX launched the first all-private crewed flight to the International Space Station (ISS) today at 11:17 a.m. EDT.
The astronauts walked across the crew access arm, the long white hallway often seen in photographs, and entered the capsule.
The weather was calm as the astronauts underwent leak tests on their spacesuits. The hatch was closed, then opened again, to seal tighter. The AX-1 crew was sealed inside an hour before launch.
The crew access arm was retracted from the Crew Dragon capsule, and the Falcon 9 rocket was loaded with propellants.
15 minutes to launch, the team loaded liquid oxygen and PR-1 rocket fuel into the spacecraft.
Systems started up, and the countdown began.
The Axiom Mission 1 (Ax-1) launched three paying customers with Axiom's Commander Michael López-Alegría to the International Space Station (ISS) aboard a SpaceX Crew Dragon vehicle. The crew is riding atop a Falcon 9 Block 5, from Launch Complex 39A in Florida.
SpaceX is serving as the launch/mission provider with Axiom as the customer. The Ax-1 mission will last 10 days before splashing down back to Earth.
Axiom President and CEO Michael Suffredini told press, "Humanity has only scratched the surface of low-earth orbit's potential for breakthrough innovation and axiom was founded to push that envelope – first with private astronaut missions to ISS, followed by the launch and operation of the world's first commercial space station, and eventually the creation of a rotating city in space and scaled human presence in orbit."
The Ax-1 mission team plans to conduct over 25 research projects during their time at the ISS including stem cell and cardiac health, plus in-space spacecraft assembly as Axiom prepares to build the first commercial private space station.
Houston-based company Axiom Space sent the first all-private crew to the International Space Station aboard a SpaceX Crew Dragon spacecraft. The first commercial mission of its kind blasted off today at 11:17 am ET.Updated April 8, 2022.
The AX-1 crew has been training at NASA's Johnson Space Center in Houston Since August 2021 to learn about ISS systems and emergency procedures.
Axiom is planning to launch its first space station module in September 2024. Among the modules that Axiom plans to launch is a research facility to support more science projects once the ISS has retired.