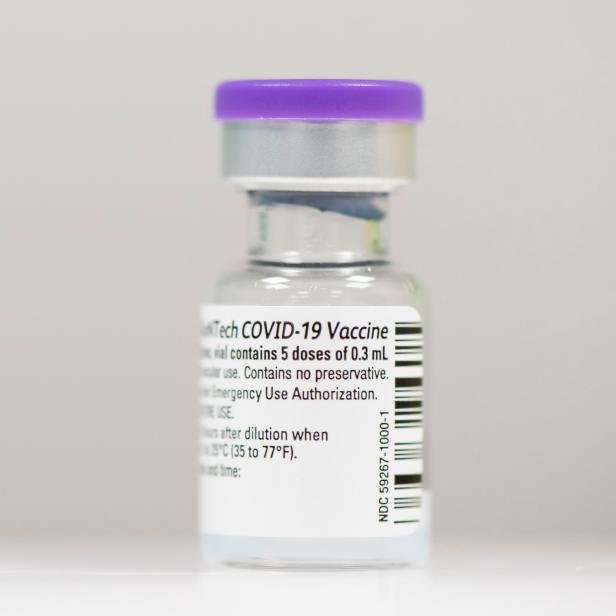 1230013927
CARDIFF, WALES - DECEMBER 08: A close-up of a COVID-19 vaccine at Cardiff and Vale Therapy Centre on December 8, 2020 in Cardiff, Wales. More than 50 hospitals across United Kingdom were designated as covid-19 vaccine hubs, the first stage of what will be a lengthy vaccination campaign. NHS staff, over-80s, and care home residents will be among the first to receive the Pfizer/BioNTech vaccine, which recently received emergency approval from the country's health authorities. (Photo by Matthew Horwood/Getty Images)
90 Year Old Grandma is the First Recipient of COVID Vaccine in UK
COVID-19 vaccine administration is underway in the United Kingdom. Margaret Keenan, 90, was given the first dose of the Pfizer and BioNTech mRNA vaccine outside of the global trials.
At University Hospital Coventry in England, this first immunization marks the beginning of a massive effort by the National Health Service (NHS) to fight COVID-19. After being granted emergency approval, Pfizer and BioNTech delivered the first of the vaccines for distribution by the NHS.
Though Margaret was the first, she was quickly followed by a man with a very familiar name. William Shakespeare, 81, not from Stratford-upon-Avon, but from Warwickshire, received the second of two "jabs" (British colloquial for vaccine).
This massive effort by the NHS is a light at the end of a "2020" tunnel. With more than just Pfizer and BioNtech in the game, this is a global war against a virus that has upended the lives of millions. In the case of the UK specifically, their order of 40 million doses for 20 million patients will start with seniors and healthcare workers, and continue along the plan put in place by the Joint Committee on Vaccination and Immunization.
This vaccine and its 95% effectiveness rate puts the UK ahead of the US and Europe. In addition to the Pfizer/BioNTech vaccine, Moderna has a similar effectiveness rate and is likely to start distributing vaccines stateside this month.
On the eve of her 91st birthday, Ms. Keenan said, "It's the best early birthday present I could wish for because it means I can finally look forward to spending time with my family and friends in the new year after being on my own for most of the year."