NASA's SpaceX Crew-1 Mission Videos
NASA SpaceX Crew-1 Mission launched on Sunday, November 15th at 7:27P ET. Here's everything that happened leading up this this historic launch from the Kennedy Space Center in Cape Canaveral, Florida and docking at the International Space Station.
Space Launch Live | Crew-1 Liftoff Recap 01:06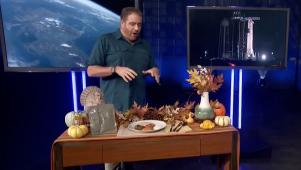 Now Playing
Space Launch Live | Josh Gates & Thanksgiving Food from the ISS 01:56
Josh Gates got his hands on what the astronauts on their way to the International Space Station are bringing with them for Thanksgiving dinner. Learn about their turkey and all the fixings-- and even a dessert!