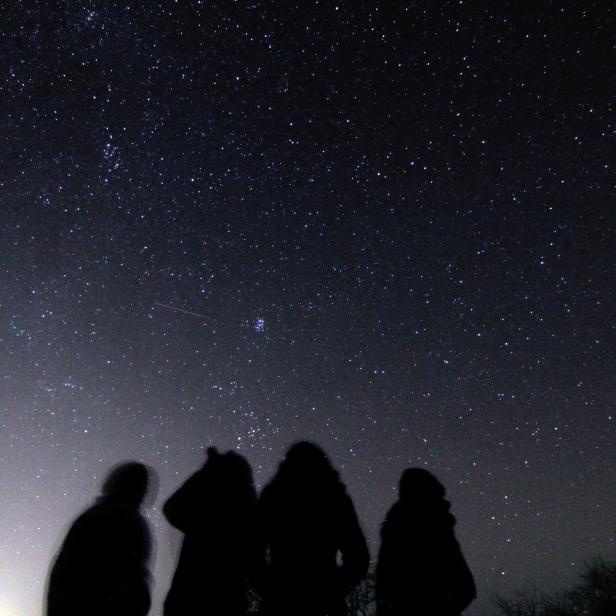 525434782
Astronomer observe the Gemenids meteor shower in the observatory of Avren, East of the Bulgarian capital Sofia, between Dec. 13 and 14, 2014. The Geminids are a meteor shower caused by the object Phaeton 30120 which is thought to be a Palladain Asteroid with a "rock comet" orbit. This would make the Geminids, together with the Quadrantids the only major meteor showers not originating from a Comet. The meteors from this shower are slow moving, can be seen in December and usually peak around December 13 and 14, with the date of highest intensity being the morning of December 14. Photo by: Petar Petrov/Impact Press Group/NurPhoto (Photo by NurPhoto/NurPhoto via Getty Images)
First Meteor Shower of 2021 Peaks This Weekend
Meet the Quadrantids. An annual meteor shower that graces the skies right around January 1. This year the shower will be competing with the light of the moon, but if you're lucky you may be able to catch it in the sky this weekend.
During the pre-dawn hours of January 3, look to the sky to try to catch a glimpse of the Quadrantid meteors. If you are lucky enough to reside in the western part of North America, where it is still dark at around 5:30 AM PT take a look to the sky and hope that the moon doesn't compete with this cosmic light show.
The narrow peak time for this shower is not uncommon, but it can supply 50-100 meteors in a short time. Every year the Quadrantid meteor shower is a little different, but knowing that the above time prediction, is just that, a prediction! The best way to see the shower is to take a chance and look up!