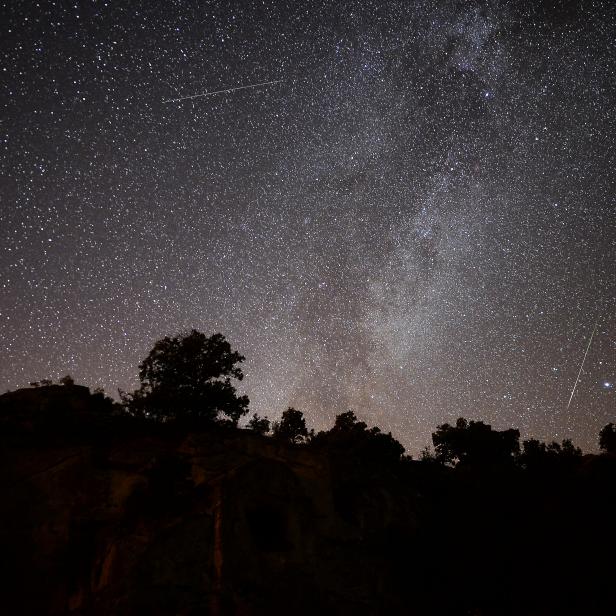 1161449834
USAK, TURKEY - AUGUST 13: Perseid meteors streak across the night sky over the ancient city of Mesotimolos in Esme district of Turkey's western Usak province on August 13, 2019. Visitors observed 60 to 80 meteors that were visible with the naked eye. (Photo by Soner Kilinc/Anadolu Agency via Getty Images)
The Perseid Meteor Shower Reaches its Peak
Stargazers rejoice! The annual Perseid meteor shower is upon us. Here's what you need to know...
(updated August 11, 2022)
Stargazers rejoice! The annual Perseid meteor shower is upon us. Though the annual spectacle began in mid-July, August 11-12 marked the shower's peak as Earth passes through debris left behind by the Comet Swift-Tuttle.

The Comet Swift-Tuttle was last seen in 1992. It's one of the largest objects to have repeatedly crossed paths with Earth, measuring approximately 16 miles across and flying through space at approximately 36 miles per second. That's 150 times the speed of sound! Though we're not scheduled to see the comet again until 2126, we're reminded of our celestial guest each year as we pass through its trail of dust and debris, which creates the Perseid meteor shower.
Those in the Northern Hemisphere had the best views, with the ideal viewing times beginning Thursday night into Friday morning and continuing through dawn. Though sightings were down due to the brightness of a nearly full moon, stargazers across the globe were rewarded with spectacular views of the annual celestial phenomena.

If you missed last night's show, don't worry. The meteor shower is expected to continue through August 24th. To view, simply find a location away from bright city lights and light pollution, and allow your eyes to adjust to the night sky. If you're lucky enough to see a meteor, don't forget to make wish!