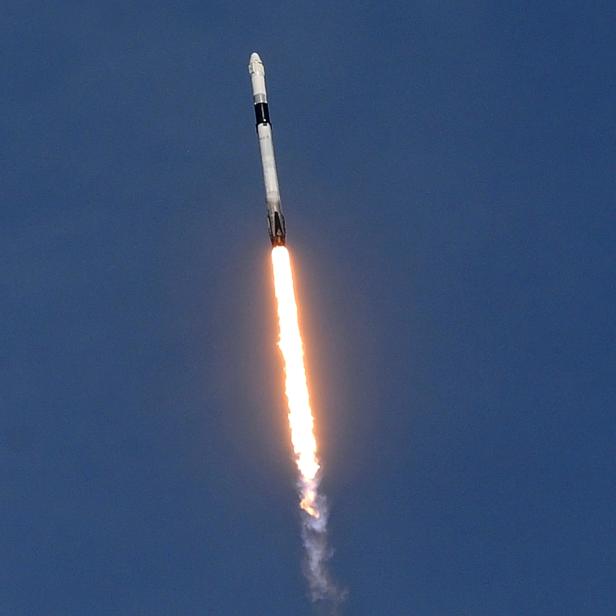 1157666192
After a one day launch delay due to weather, a SpaceX Falcon 9 rocket lifts off from Space Launch Complex 40 at Cape Canaveral Air Force Station, carrying the Dragon spacecraft on the 18th resupply mission by SpaceX to the International Space Station on July 25, 2019 at Cape Canaveral, Florida. (Photo by Paul Hennessy/NurPhoto via Getty Images)
Reusable Rockets: Expanding Space Exploration Possibilities with Retrievable Spacecraft
With the evolution of reusable rockets through commercial companies such as SpaceX and Blue Origin, the cost of space exploration is decreasing. Learn more about today's "space race."
Mankind has been able to launch rockets into space since the creation of the V2 rocket in Germany in 1942. Manned space flight took another 19 years when cosmonaut Yuri Gargarin successfully orbited the Earth on 12 April 1961. The ensuing 'Space Race' between the US and Russia ignited global interest in space exploration, but the lack of reusable rocket technology has restricted space flight to only the richest nations.
Now with the evolution of reusable rockets through commercial companies such as SpaceX and Blue Origin, the cost of space exploration is decreasing. SpaceX, owned by entrepreneur Elon Musk, has launched satellites and supplied cargo to the International Space Station (ISS) for NASA.
The SpaceX Falcon 9 is a two-stage rocket designed for payload delivery and manned flight. Both the Falcon 9 and the larger heavy-lifter Falcon Heavy (which uses three Falcon 9 rocket boosters) are built to return their lower rocket stages upright either to Earth or to a drone ship in the ocean. Four lightweight carbon fiber legs deploy just before landing, each one containing a shock-absorbing system to cushion the impact.
Photo by Barcroft Media via Getty Images
CAPE CANAVERAL, FLORIDA, UNITED STATES, DECEMBER 5, 2019: A SpaceX Falcon 9 rocket carrying a Dragon cargo capsule with supplies for the International Space Station launched successfully from pad 40 at Cape Canaveral Air Force Station.
The launch to landing process for the Falcon 9 rockets takes just minutes to achieve and the company aims to cut relaunch turnaround times to just 24 hours. Reusing the rockets costs SpaceX less than half the amount of building new ones. Drone barge recovery retrieves the rocket stages that come down over open sea and saves money on expensive rocket fuel by simply shipping the booster back to shore.
Blue Origin is the Musk-led enterprise's closest competitor. Amazon-founder Jeff Bezos started the company in 2000 (two years earlier than SpaceX) and is pursuing the same goal of creating sophisticated reusable rockets that can deliver satellites, cargo, research projects, or astronauts into orbit.
The stated goal is to create a 'road to space' that will allow millions of people to live and work off-planet. After SpaceX successfully landed its Falcon 9 on a pad at Cape Canaveral in December 2015, the Bezos-owned company's New Shepard rocket launched to the edge of space and landed successfully just one month later.
Photo by Orlando Sentinel via Getty Photos
Amazon.com CEO and Blue Origin founder Jeff Bezos, left, debuts a launch vehicle on Tuesday, Sept. 15, 2015, as Florida Gov. Rick Scott applauds during a press conference at launch complex 36 at Cape Canaveral Air Force Station.
The New Shepard is named after space pioneer Alan Shepard who was the first American in space in May 1961. The rocket is a fully reusable vertical take-off and vertical landing craft – like the Falcon 9 – that can deliver people or payloads to just above the Karman Line (62 miles or 100 km above Earth). Like its direct competitor Blue Origin also has a heavy lifting rocket – named the New Glenn after astronaut John Glenn – that it will use to take larger payloads and astronauts into space.
SpaceX is ahead by virtue of its ability to launch payloads into orbit. Falcon Heavy is the most powerful rocket in operation and is capable of lifting nearly 64,000 kg (141,000 lbs) into low Earth orbit. That eclipses the Delta IV Heavy from Boeing and Lockheed Martin that achieves less than 23,000 kg (50,000 lbs) and the NASA Space Shuttle's 24,000 kg (54,000 lbs).
NASA's outstanding ingenuity and large research budgets led to the moon landings in 1969. Yet despite all the innovation and investment it wasn't until the Space Shuttle program took off in 1981 that the concept of reusable space craft was first realised. The Shuttle orbiter featured two reusable solid rocket boosters attached to a disposable fuel tank and the craft itself used wings to fly back to Earth on re-entry.
The era of Space Shuttle missions led to construction of the ISS and made space flight much more accessible. More than 130 Shuttle missions were flown, but the program never met NASA's optimistic expectations of 50 flights per year and individual launches ended up costing an average of $450 million. By comparison the Falcon Heavy could lift its maximum load into low Earth orbit for $150 million – one third of the cost.
Musk estimates that when the Falcon 9 incorporates technology to make its second stage rocket reusable, alongside the first stage and its Dragon capsule, launches will become 100 times cheaper. By making all of its rocket stages reusable the company is also preparing for its next phase – the Super Heavy Rocket and Starship – that will enable interplanetary transport and a mission to Mars.