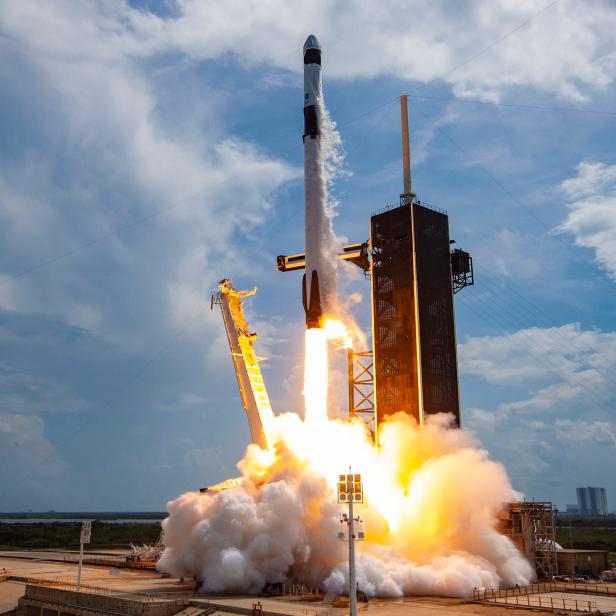 1216521439
CAPE CANAVERAL, FLORIDA - MAY 30: In this SpaceX handout image, a Falcon 9 rocket carrying the company's Crew Dragon spacecraft launches on the Demo-2 mission to the International Space Station with NASA astronauts Robert Behnken and Douglas Hurley onboard at Launch Complex 39A May 30, 2020, at the Kennedy Space Center, Florida. The Demo-2 mission is the first launch of a manned SpaceX Crew Dragon spacecraft. It was the first launch of an American crew from U.S. soil since the conclusion of the Space Shuttle program in 2011. (Photo by SpaceX via Getty Images)
Everything You Need to Know About NASA & SpaceX's Historic Launch Day
Get the play-by-play on everything that happened from launch preparations and tests to liftoff and dock with the ISS. (Updated 5/31/20)
With 50% chance of being scrubbed due to looming weather conditions in the Cape Canaveral area leading into launch day, the second attempt was still a go this afternoon. As we got closer to launch time, the excitement grew as the clouds parted and Mother Nature cooperated.
The NASA astronauts were strapped in the SpaceX Crew Dragon spacecraft, the hatch was closed, final checks were passed, and fueling began. All that was left was the countdown to liftoff as anticipation grew for the historic launch. Could liftoff actually happen today?
Here's what happened next.
And just like that, history was made. Congrats to everyone at NASA and SpaceX on a successful launch and dock with the ISS.
Keep celebrating this amazing feat with the best moments from Discovery's Space Launch LIVE.
Singer Katy Perry's new single "Daisies" inspires us to dream big as we enter into the next era of space exploration for America. Watch the best moments in the NASA and SpaceX journey to liftoff of the historic launch from Discovery's Space Launch LIVE.
(Updated on May 30, 2020) As we celebrate the successful launch of the Dragon Crew Spacecraft and resuable Falcon-9 Rocket, take a look back at the partnership between NASA and SpaceX leading up to the launch date. Also, included are some new images from the successful launch on May 30, 2020.
Here's to NASA, SpaceX, Astronauts Bob Behnken and Doug Hurley, and all of the engineers, scientists, and staff involved with the Saturday, May 30th historical launch.