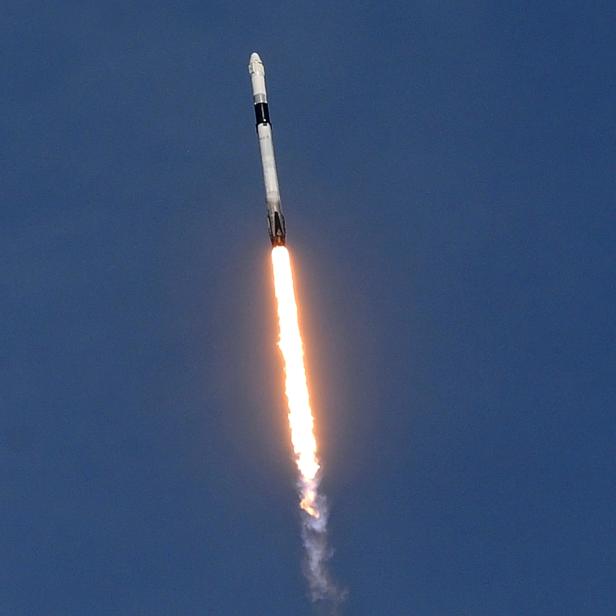 1157666192
After a one day launch delay due to weather, a SpaceX Falcon 9 rocket lifts off from Space Launch Complex 40 at Cape Canaveral Air Force Station, carrying the Dragon spacecraft on the 18th resupply mission by SpaceX to the International Space Station on July 25, 2019 at Cape Canaveral, Florida. (Photo by Paul Hennessy/NurPhoto via Getty Images)
NASA and SpaceX are Going on a Date, and We're All Invited
Save the date--On May 27th, if everything goes as planned, a rocket will launch from Kennedy Space Center in Cape Canaveral, Florida.
Watch SPACE LAUNCH LIVE: AMERICA RETURNS TO SPACE on Discovery and Science Channel starting at 2P ET.
Okay, okay, rockets go off all the time from the Cape and other locations on Earth, so what's the big deal?
The big deal is a collection of firsts set to blast off on the 27th of May. For example:
The first humans carried aboard a rocket developed by a private company
The first Americans to launch from the United States in over a decade
The first humans inside SpaceX's brand-spanking-new Dragon capsule
The first humans aboard a reusable rocket
The first crewed mission to space during a global pandemic
Ever since the opening days of the space age, NASA has designed, built, and flown its very own rockets, capsules, and other related miscellaneous spacey gear. So it was for the Apollo missions all the way to the shuttle era (and will be in the future, too, with NASA's upcoming Space Launch System).
But this time, it's different.
The privately-held company SpaceX helmed by CEO Elon Musk for over eighteen years, will be providing the big rockety boost needed to get NASA's astronauts to the space space, aboard a Falcon 9 rocket topped with a Dragon crew capsule.
I'll say it again in case you didn't catch it yet: This is the first time in the history of spaceflight that a private company will launch astronauts into space – and keep them safe while they're up there.
Companies like SpaceX have spent the past couple decades working tirelessly and relentlessly to make access to space cheaper, chiefly through the use of reusable rockets – once the payload is delivered into orbit, bring the rocket back down the Earth and polish it up for another ride, instead of just ditching the millions of dollars worth of machinery into the ocean. This approach has paid dividends already, enabling cheaper satellite launches and new uses for low-earth orbit (like a fleet of satellites providing global high-speed internet).
In the meantime, NASA has spent the past decade wallowing in a highly bureaucratic version of hell. After the tragic end of the space shuttle program in 2011, the American space agency was forced to rent seats on Russian made and Russian launched Soyuz rockets to get astronauts up to the International Space Station, which made for more than a few awkward rumblings at congressional meetings and not a small amount of wounded national pride.
Simultaneously, efforts by NASA to get their latest rocket, the Space Launch System, off the ground (literally) have been met with changing administration priorities, budgeting shortfalls, and supplier mistakes.
In other words, while the past decade has proven to be a riot of excitement and advancement in the private space sector, it hasn't been much of a blast for NASA.
And now, if everything goes as planned on May 27th, we will make human access to space cheaper, more reliable, and downright easier.
It's impossible to say what kind of revolutions in spaceflight that might lead to. Space tourism? Moon bases? I would say that the sky is limit, but the sky is just the start.
Paul M. Sutter is an astrophysicist at Stony Brook University and the Flatiron Institute, host of Ask a Spaceman and Space Radio, and author of How to Die in Space.