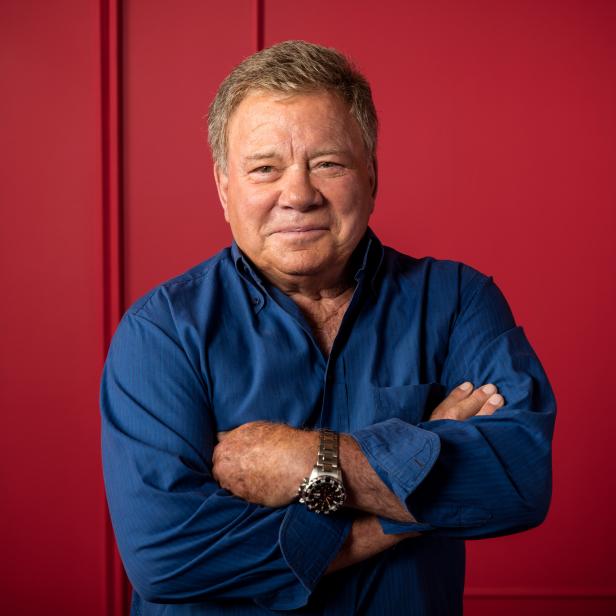 585274904
NBCUNIVERSAL EVENTS -- NBCUniversal Press Tour Portraits, August 2016 -- Pictured: William Shatner, "Better Late Than Never", poses for a portrait in the the NBCUniversal Press Tour portrait studio at The Beverly Hilton Hotel on August 2, 2016 in Beverly Hills, California. (Photo by Christopher Polk/NBC/NBCUPhotoBank via GettyImages)
William Shatner is going where no 90-year-old has gone before
The Star Trek star will become the oldest person to go to space when he launches aboard a Blue Origin rocket on Wednesday, October 13. Watch live coverage on Space Launch LIVE: Shatner in Space on Discovery and Science Channel starting at 8:30A ET with liftoff scheduled for 10A ET.
Discovery and Science Channel brings viewers the highly-anticipated launch of Star Trek star William Shatner as he takes his first flight into space -- at the age of 90, soon to be the oldest person to fly to space -- on Blue Origin's New Shepard, a cutting-edge suborbital rocket.
Scheduled for Wednesday after weather delays, the mission, known as NS-18, will launch from Blue Origin's West Texas site. The flight will last just 11 minutes and travel beyond the internationally recognized boundary of space known as the Kármán Line, 62 miles above the Earth. This will be the second-ever crewed spaceflight for Blue Origin after its inaugural crewed flight launched founder Jeff Bezos and three other passengers on a 10-minute trip to space and back in July.
But Shatner won't be alone on his record-breaking mission. He'll be joined by two paying customers: Chris Boshuizen, co-founder of the nanosatellite company Planet Labs; and Glen de Vries, co-founder of Medidata, a software company that specializes in clinical research.
Shatner is flying as a guest of Blue Origin, whereas Boshuizen and de Vries took part in an auction for a seat on Blue Origin's first flight. That seat cost $28 million.
Rounding out the four-person crew is Blue Origin executive Audrey Powers, who worked as a flight controller for NASA before joining the company.
Shatner's inclusion on the spaceflight is fitting, as he spent much of his career portraying the commander of a starship in his role as Captain Kirk in the original "Star Trek" television series, along with seven feature films.
The parallel wasn't lost on him. "Yes, it's true; I'm going to be a 'rocket man!'" Shatner said on Twitter.
This is Blue Origin's second human flight into space. The first, which took place in July, included Blue Origin founder Jeff Bezos and his brother Mark Bezos. That flight also sent both the oldest and youngest people to space: 18-year-old physics student Oliver Daemen and 82-year-old Wally Funk, a pioneering female aviator and aspiring astronaut. Shatner will beat Funk's record by 8 years.
"I've heard about space for a long time now. I'm taking the opportunity to see it for myself," Shatner said in a statement. "What a miracle."