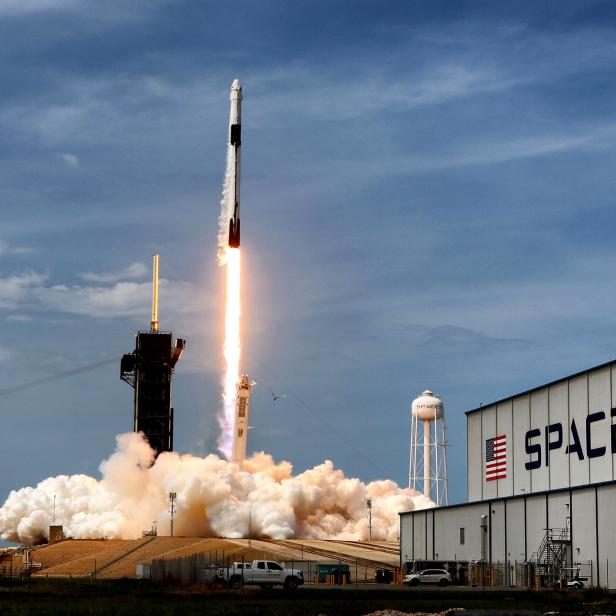 1219672105
On May 30, 2020, the SpaceX Falcon 9 Crew Dragon capsule lifts off from Kennedy Space Center, Fla. On Saturday, June 13, 2020, SpaceX launched yet another batch of Starlink satellites, continuing the companys mission to build a constellation of satellites that can deliver high-speed internet to the entire planet. (Joe Burbank/Orlando Sentinel/Tribune News Service via Getty Images)
Launch of SpaceX's Starlink: A "Mega-Constellation" of Internet Satellites
Starlink is a growing network of satellites capable of providing high-speed internet access across the globe. On August 7 at 1:12 AM EDT, a new batch of satellites will launch from Cape Canaveral, Florida.
(Updated on August 6, 2020)
On May 30, 2020, Elon Musk's company and NASA came together to launch two NASA astronauts to the international Space Station. The mission carries historical significance. It reignites American space flight and opens the door to privatizing America's space program. SpaceX is the first private company to prove its capability with the help of its Crew Dragon Demo-2 Mission and Falcon 9 rocket.
Yuri Smityuk
VLADIVOSTOK, RUSSIA - APRIL 27, 2020: 60 of the Starlink Internet communication satellites of Elon Musk's SpaceX private spaceflight company seen in the night sky.
In 2018, SpaceX began to construct and launch their own satellites into space. The first of the series was a test mission with the name of, "Tintin." As of May 2019, Tintin evolved into Starlink. A Starlink mission often includes up to 60 Starlinks per launch.
Starlink is a growing network of satellites capable of providing high-speed internet access across the globe. This includes many remote areas of planet Earth. It is a subscription-based service and requires additional hardware to receive a signal. SpaceX estimates that Starlink's internet will be "made available to customers in Canada and in the northern United States in 2020, with additional service expansion to follow to other parts of the world throughout 2021."
On June 23rd, June 25th, June 26th, July 8th, and July 11th, SpaceX was scheduled to launch its 10th batch of Starlink satellites and provide a rideshare service for two earth observation microsatellites for BlackSky Global. These launches were delayed or scrubbed. The next launch attempt is scheduled for August 7 at 1:12AM EDT. SpaceX refers to this upcoming mission as "Starlink 9." These Starlink satellites are accessorized with a "sun visor" to minimize "satellite light pollution" once they are in orbit.
Fans of space are having a tough time picking sides over a recent controversy between SpaceX and astronomers. But what's the big debate all about? Astrophysicist Paul M. Sutter digs into both perspectives.
SpaceX's goal is to create a network of 12,000 satellites with the possibility of up to 30,000 more. It will form a "mega-constellation" train in the night sky. When you go outside, look up and you just might see the "largest satellite fleet" in space pass by!