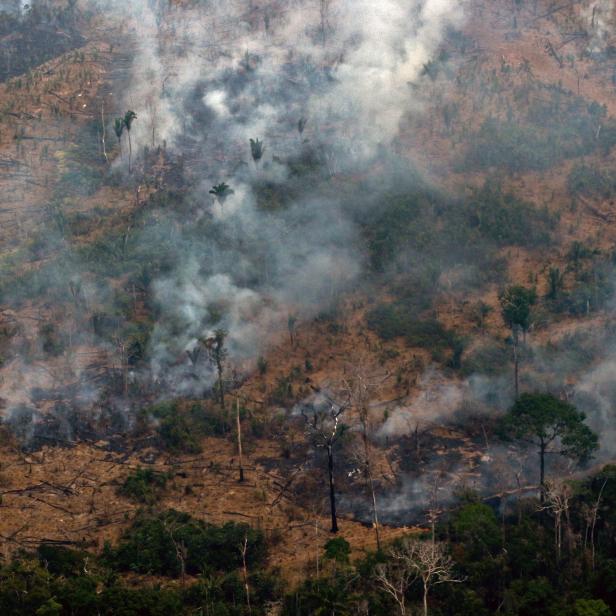 1163938847
Aerial view showing smoke billowing from a patch of forest being cleared with fire in the surroundings of Boca do Acre, a city in Amazonas State, in the Amazon basin in northwestern Brazil, on August 24, 2019. - Brazil on August 25 deployed two Hercules C-130 aircraft to douse fires devouring parts of the Amazon rainforest. The latest official figures show 79,513 forest fires have been recorded in the country this year, the highest number of any year since 2013. More than half of those are in the massive Amazon basin. Experts say increased land clearing during the months-long dry season to make way for crops or grazing has aggravated the problem this year. (Photo by LULA SAMPAIO / AFP) (Photo credit should read LULA SAMPAIO/AFP/Getty Images)
Photo credit: Lula Sampaio/AFP/Getty Images
What You Need to Know About the Amazon Rainforest Fires and How You Can Help
The Amazon rainforest is burning at a record rate. Here is what you need to know.
Rainforest fires are common during the dry season from July to October. They are caused by natural phenomena, such as lightning strikes, but also by people clearing land for commercial use. According to Brazil's space research center INPE, there have been 75,000 fires in Brazil in the first eight months of the year. This is an 83 percent increase from the same period last year and the highest number on record since 2013.
NASA reported on August 16th that satellite images indicate a close to average fire activity in the Amazon basin, in comparison to the past 15 years, but an increased activity in the state of Amazonas that houses the rainforest.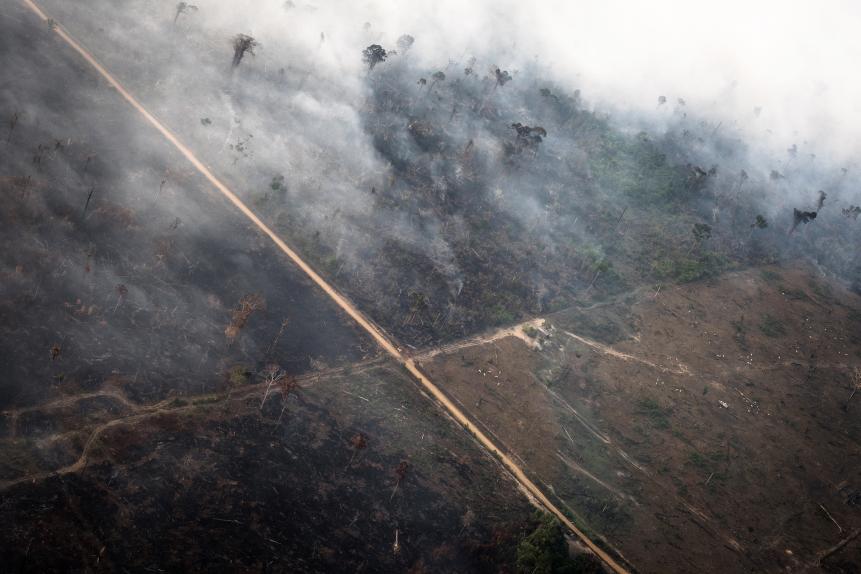 1163795145
Smoke rises as a fire burns in the Amazon rainforest in this aerial photograph taken near the Candeias do Jamari region of Porto Velho, Rondonia state, Brazil, on Saturday, Aug. 24, 2019. The world's largest rainforest, Brazil's Amazon, is burning at a record rate, according to data from the National Institute of Space Research that intensified domestic and international scrutiny of President Jair Bolsonaro's environmental policies. Photographer: Leonardo Carrato/Bloomberg via Getty Images
Photo credit: Leonardo Carrato/Bloomberg via Getty Images
The damage of the Amazon has already reached beyond Brazil and its neighboring countries. According to the Copernicus Atmosphere Monitoring Service (Cams), the smoke has darkened the skies of São Paulo, more than 2,000 miles away, and has traveled to the Atlantic Coast.
The Amazon basin is not only home to one million people and three million species of wildlife but also plays a critical role in regulating carbon emissions. With recent fires, however, the rainforest fails to absorb tonnes of carbon and releases carbon monoxide, a gas produced when wood is burned and loses access to oxygen. The Amazon rainforest has released over 228 megatonnes of carbon dioxide this year, the highest since 2010.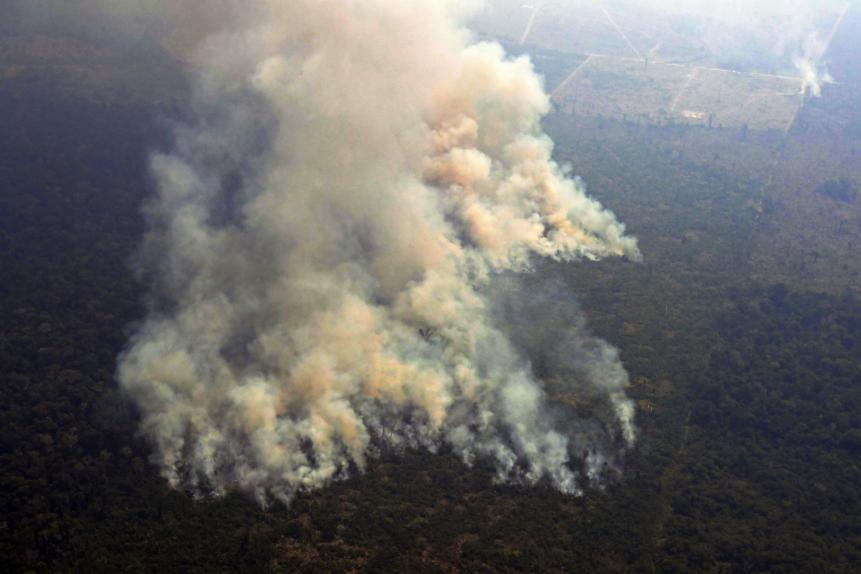 1163382522
Aerial picture showing smoke from a two-kilometre-long stretch of fire billowing from the Amazon rainforest about 65 km from Porto Velho, in the state of Rondonia, in northern Brazil, on August 23, 2019. - Bolsonaro said Friday he is considering deploying the army to help combat fires raging in the Amazon rainforest, after news about the fires have sparked protests around the world. The latest official figures show 76,720 forest fires were recorded in Brazil so far this year -- the highest number for any year since 2013. More than half are in the Amazon. (Photo by Carl DE SOUZA / AFP) (Photo credit should read CARL DE SOUZA/AFP/Getty Images)
Photo Credit: Carl de Souza/AFP/Getty Images
The rainforest, known as the lungs of the planet, also generates more than 20 percent of the world's oxygen. Increasing deforestation and carbon emissions will continue to contribute to change in climate and further affect wildlife, agriculture, and human health.
Even in rainy weather, forest fires are still raging. While you might not be able to physically turn off the flames, here are some simple ways you can help contribute to protecting the rainforest.
Stay in the know. Learn more about the significance of the Amazon and different initiatives and organizations that help its indigenous communities and wildlife.

Purchase Rainforest Safe products. From paper and wood products to coffee, chocolate, and bananas, check to see what you're buying has a Rainforest Alliance Certified™ seal or is made from recycled materials.
Reduce your beef consumption. Rainforests are being cleared to make room for cattle farms that contribute to the meat distribution industry around the world. Plus, cattle is responsible for a high percentage of greenhouse gas emissions, methane, which is much more potent than carbon dioxide.
This article has been updated on August 30, 2019.