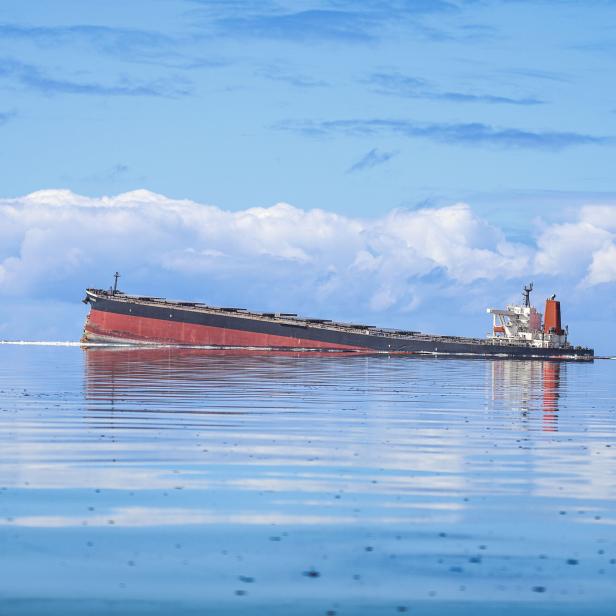 1227962260
This general view taken on August 7, 2020, shows the vessel MV Wakashio, belonging to a Japanese company but Panamanian-flagged, that ran aground near Blue Bay Marine Park off the coast of south-east Mauritius. - France on August 8, 2020 dispatched aircraft and technical advisers from Reunion to Mauritius after the prime minister appealed for urgent assistance to contain a worsening oil spill polluting the island nation's famed reefs, lagoons and oceans. Rough seas have hampered efforts to stop fuel leaking from the bulk carrier MV Wakashio, which ran aground two weeks ago, and is staining pristine waters in an ecologically protected marine area off the south-east coast. (Photo by Daren Mauree / L'Express Maurice / AFP) (Photo by DAREN MAUREE/L'Express Maurice/AFP via Getty Images)
Shipwreck Causes Environmental Crisis in Indian Ocean
A wrecked ship southeast of nearby island Mauritius is spilling oil into the Indian Ocean. Known for its pristine beaches and coral reefs, Mauritius has declared a "state of environmental emergency."
The MV Wakashio—a Japanese-owned ship sailing under the Panamanian flag—ran aground on July 25th. Due to rough waves caused by bad weather, the 984 ft ship began breaking up, causing the ship to leak tons of oil into the ocean. The ship was reported to have contained about 4,000 tonnes of fuel on board, which is causing major concern to the effect on ocean wildlife among environmentalists.
Happy Khambule of Greenpeace Africa told the BBC that "thousands" of animal species were "at risk of drowning in a sea of pollution, with dire consequences for Mauritius' economy, food security and health".
Attempts have been made to try to clean up the spillage, but rough weather has made it difficult. Mauritius needs help. "We are in an environmental crisis situation," Mauritius' environment minister Kavy Ramano told The Guardian. "This is the first time that we are faced with a catastrophe of this kind and we are insufficiently equipped to handle this problem."
With the French island Reunion nearby, French President Emmanuel Macron has agreed to help. He tweeted on Saturday, "When biodiversity is in peril, there is urgency to act."
According to CNN, Younous Omarjee, a member of the European Parliament from Reunion Island, said that international cooperation was needed to deal with the "ecological disaster."
"This is a serious environmental crisis and we are not yet aware of all the consequences it could have. It's also terrible for Mauritius, whose economy is based on tourism and has already been severely impacted by the pandemic," Omarjee told CNN.