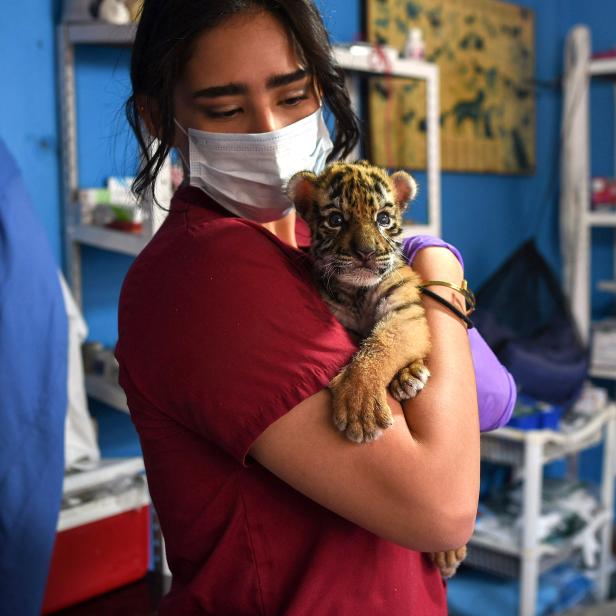 1209295729
A veterinary holds a newborn bengal tiger cub called "Covid" at the Wildlife Rescue and Rehabilitation Center "Africa Bio Zoo", in Cordoba, State of Veracruz, Mexico on April 05, 2020 amid the outbreak of the novel coronavirus, COVID-19. (Photo by VICTORIA RAZO / AFP) (Photo by VICTORIA RAZO/AFP via Getty Images)
The Truth About COVID-19 and Your Animals
Experts in the medical and veterinary fields help clear up rumors and answer your burning questions about how COVID-19 affects animals.
As we traverse the pandemic and learn more and more about the novel Coronavirus that is impacting humanity as a whole, we continue to worry about our loved ones—including our pets. Every minute, scientists are working hard to learn more about this virus and what it does to humans and animals alike. The World Health Organization (WHO) and the World Organization for Animal Health (OIE) keep the medical community and the public swiftly informed during this tumultuous time.
Understanding coronavirus and its relationship between animals and humans is to understand that this virus likely started in an animal. Animal Planet's Dave Salmoni spoke with WHO's Dr. Peter Ben Embarek to learn the facts once and for all. According to Dr. Embarek, "[COVID-19] jumps from an animal we usually raise for foods or hunt for foods. And previous examples are Ebola, the MERS virus in the Middle East,[and] the SARS virus--all jumped to humans from food in places where we raise animals and get too close to some wild animals in our search for food." Dr. Embarek is a food safety expert from the Department of Food Born Illness and Zoonoses at the WHO headquarters in Geneva, Switzerland.
You can watch the interview with Dr. Embarek and other experts in The Zoo: Covid19 & Your Animals airing this Saturday at 11P ET on Animal Planet.
Using that logic, it isn't out of the realm of possibility that animals, and even our pets, could catch the virus just as people do. As we saw in the big cat populations at the Bronx Zoo, there are now confirmed cases of pet cats testing positive for COVID-19 in New York state. These findings were discussed by Dr. Casey Barton Behravesh from the CDC who spoke to The Associated Press saying, "We don't want people to be afraid of pets. There's no evidence that pets are playing a role in spreading this disease to people." Though the CDC does recommend social distancing for pets, too—cats should stay inside, and dogs should distance from other dogs and humans.
The cases in New York state still leave us asking questions about the spread of the virus. For example, in the case of one of the infected cats, the owner did not have a confirmed case of COVID-19. However, the owner had a short respiratory illness prior to the cat's diagnosis and the cat did go outside from time to time. The other cat was in a household with an owner who tested positive for COVID-19, but the other cat in that home that has a clean bill of health. As questions abound, we continue to turn to the WHO.
The World Health Organization's Stance
The one thing we do know is that the novel coronavirus is called that for a reason—It is new, and we are finding out new things about it every single day. For now, rely on the WHO and OIE's information and guidelines regarding yourself and your pets. And on the topic of animals, this is their guidance.
There is a possibility for some animals to become infected through close contact with infected humans. Further evidence is needed to understand if animals and pets can spread the disease.
Based on current evidence, human to human transmission remains the main driver.
It is still too early to say whether cats could be the intermediate host in the transmission of COVID-19