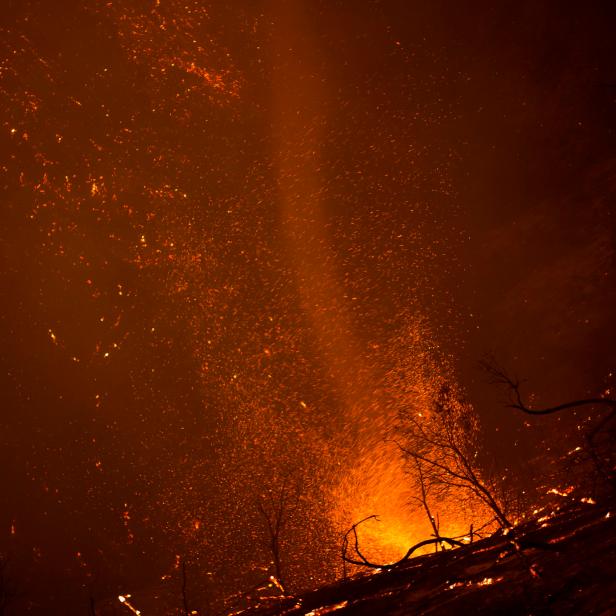 541039478
A fire whirl, or fire tornado, rises from a burning canyon, June 17, 2016 at the Sherpa Fire near Santa Barbara,California. - A fire in the Los Padres National Forest had expanded to two square miles (five square kilometers) by Thursday, making it the "largest since 2009" in the area, a spokesman for the Santa Barbara County Information Center told AFP. (Photo by DAVID MCNEW / AFP) (Photo by DAVID MCNEW/AFP via Getty Images)
Wildfire Outbreaks are Creating Their Own Stormclouds and Fire Tornadoes
Nine out of 20 of California's largest wildfires have happened since 2020, and the Dixie Fire, which started on July 13, 2021, burned across five counties. Severe drought, dry forests, and strong winds created perfect conditions for its spread. Dixie razed almost one million acres along with 1,300 buildings and other structures.
Surface heat from the Dixie Fire likely created atmospheric instability in a similar way to thunderstorms. Fire updrafts rapidly pushed heat upwards, funneling smoke like a chimney to form clouds as the air-cooled, giving the fire its own weather system.
Towering anvil-shaped pyrocumulonimbus clouds reaching almost eight miles high formed over the fire. Lightning strikes, thunder, and strong winds occur in these clouds in a similar way to smoke plumes from volcanic eruptions. Firestorms caused by pyrocumulonimbus may also be responsible for large volumes of pollutants being trapped in the upper atmosphere, according to NASA research.
High-resolution radar data gathered by the New York Times and atmospheric scientist Neil Lareau helped to create a 3D model of the Dixie Fire's thunderclouds. Dry conditions fueled a massive upsurge of heat and smoke into the troposphere where moisture condensed around smoke particles to form clouds that grew into the pyrocumulonimbus cloud.
Rain then produced by the storm cloud pushed moisture and strong winds earthwards. But before it could reach the ground the dry atmosphere sucked up most of the rain.
Winds spread out at ground level causing another pyrocumulonimbus cloud to shoot up nearby. Lareau said the downdraft may have pushed flames into a new pocket of fuel. And as this firestorm died away, the Dixie wildfire continued to whip up others over its lifespan – eight in total – as well as one mini fire tornado.
Strong turbulent fire eddies or whirls form along the edges of a fire plume. These fiery tornadoes have become associated with intense wildfires and can grow up to 100 feet tall. Fire whirls are part of the extreme fire behavior of wildfire weather formation, according to AccuWeather meteorologists.
Around the world, climate change is making wildfires more likely and the resulting blazes increase greenhouse gas emissions. They release carbon dioxide and black carbon that affect clouds and climate regionally and globally. Smoke pollution and aerosol particles spread far and wide, affecting the health of millions. In 2020, record-breaking fires made North America the only region where air quality was worse than the previous year.
The US Forest Service received $2 billion to fight wildfires in 2021. But the LA Times reported that emergency firefighting in California alone cost in the region $1.3 billion in 2020. And measures to reduce wildland fuel for fires and make homes more fire-resistant were slashed due to pandemic spending. Critics say there is a persistent gap between what state and federal agencies spend on fighting fire and reducing fire risk.
More than $610 million was spent over three months on extinguishing the Dixie Fire. Numbers detailed in a New York Times report – 78 helicopters and 77 planes deployed, 569 fire engines, and more than 6,500 people working at the fire's peak – show the sheer scale and expense of the effort.
More than 10 million acres burned across the US from 59,000 fires in 2020. Containing blazes will take much more than firefighting. When climate conditions are ripe for fires to ignite, drought-affected states are likely to see more extreme fire behavior and wildfire weather. Reducing that risk will need coordinated action.