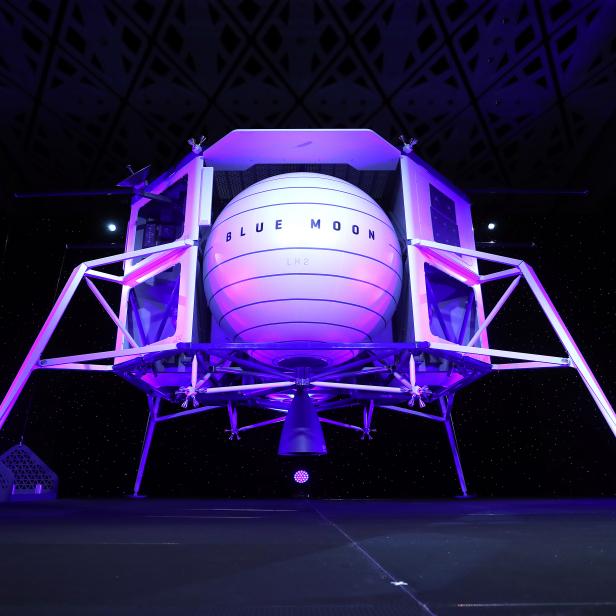 1148070217
WASHINGTON, DC - MAY 09: Jeff Bezos, owner of Blue Origin, speaks about outer space before unveiling a new lunar landing module called Blue Moon, during an event at the Washington Convention Center, May 9, 2019 in Washington, DC. Bezos said the lunar module will be used to land humans the moon once again. (Photo by Mark Wilson/Getty Images)
Blue Origin is Headed to Space with a Lucky +1
On behalf of Blue Origin, the opportunity of a lifetime is currently being auctioned off: the last seat on New Shepard, heading to space.
"Ladies and gentlemen, welcome aboard! On behalf of Blue Origin, please prepare for takeoff as we're headed to space!"
Buckle up! The time has finally come--Blue Origin has announced that it will launch its first rocket into space with its very first passenger on board. One lucky individual will have the opportunity of a lifetime to join the first astronaut flight of New Shepard, "a suborbital spacecraft scheduled for July 20, the 52nd anniversary of the Apollo 11 moon landing," according to The New York Times.
A single seat is up for grabs on the flight via auction, accompanied by five astronauts. The company hopes to excel against its competitors, SpaceX and Virgin Galactic in commercializing space tourism and expanding humanity's opportunity within the solar system-- to eventually live and work in space.
Behind the scenes of Blue Origin's rocket, it's named after Alan Shepard, the first American to go to space, The New York Times adds. The rocket has conducted 15 test flights, all of which did not have passengers aboard. Before the latest test, conducted in April, a crew also rehearsed safety demonstrations such as boarding and exiting the capsule. For the scheduled launch, astronauts will arrive at the West Texas launch site four days ahead for safety training, confirmed by Ariane Cornell, director of astronaut sales for Blue Origin.
New Shepard will launch its astronauts about 47 miles, or 250,000 feet, up until the capsule carrying the passengers will separate from its booster, The New York Times explains. "Soon after, the astronauts will get to unbuckle and experience weightlessness for about three minutes before returning to earth," Ms. Cornell stated. Because the rocket is fully pressurized, spacesuits or helmets aren't required for the flight.
It has yet to become public knowledge who the other five astronauts will be joining flight on July 20, as many are curious if Jeff Bezos will take part in the historical launch. While the bidding for the final spot has gone on since Wednesday, it will end with a live auction on June 12. Club for the Future, a science and technology club associated with Blue Origin, will be given the proceeds from the auction.
There's a few boxes this individual must check before they can head to space. This lucky individual must meet the terms of agreement for the auction listed on Blue Origin's homepage. The winning bidder must have a height and weight from five feet tall and 110 pounds to 6-foot-four and 223 pounds. Additionally The New York Times explains, "the astronaut must be comfortable with walking at heights above 70 feet above ground level on the gangway, be able to climb the launch tower — equivalent to seven flights of stairs — in less than 90 seconds and be able to fasten his or her own harness in less than 15 seconds. The astronaut must also be comfortable with lots of pressure pressing down on him or her for several minutes during both the ascent and descent."
Furthermore, the possible pricing for commercialized tickets to space and when they will become available to the public, have not been announced. Ms. Cornell did mention that there would be ""a couple more crewed flights before the end of the year."