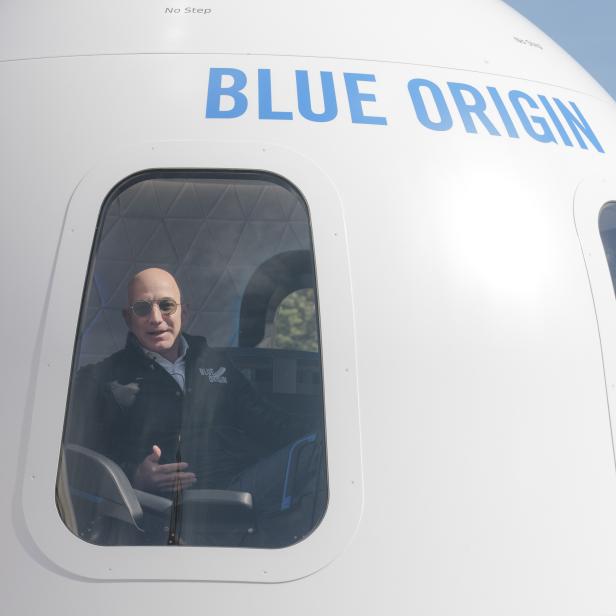 665033910
Jeff Bezos, chief executive officer of Amazon.com Inc. and founder of Blue Origin LLC, sits inside the high fidelity crew capsule mock up of the Blue Origin New Shepard system during the Space Symposium in Colorado Springs, Colorado, U.S., on Wednesday, April 5, 2017. Bezos has been reinvesting money he made at Amazon since he started his space exploration company more than a decade ago, and has plans to launch paying tourists into space within two years. Photographer: Matthew Staver/Bloomberg via Getty Images
For $3.5 Million, You Can Join Jeff Bezos in Space
The richest man in the world announced his spaceflight this month in a rocket designed by his own company, Blue Origin.
On July 20th, Jeff Bezos will be going to space on the first crewed flight of the New Shepard, a spacecraft made by his company Blue Origin. The flight is scheduled to take off just two weeks after Bezos stepped down as CEO of Amazon.
"Ever since I was five years old, I've dreamed of traveling to space. On July 20th I will take that journey with my brother," Bezos posted to Instagram.
While this will be New Shepard's first human flight, the rocket has successfully flown more than a dozen uncrewed flights.
If all goes according to plan, Bezos aboard New Shepard will be launched from its West Texas site at 8AM CDT. The spacecraft is reusable, with a pressurized cabin that can hold six passengers. (There are no pilots.)
The New Shepard's journey is a suborbital flight, meaning it isn't powerful enough to enter Earth's orbit. The Karman line, which is the altitude where space begins, is about 62 miles above sea level. Bezo's flight is expected to last eleven minutes, and only a small part of it will be above that line.
Want to hitch a ride with the Bezos brothers?
Blue Origin's foundation, Club for the Future, is auctioning off a seat on the flight. Proceeds will benefit the foundation's mission to inspire future generations to pursue careers in STEM.
The possibility of space travel with the richest man in the world has garnered over 6,000 bids from more than 140 countries.
The current high bid for a ticket to space? $3.5 million.
One Small Step for Man, One Giant Leap for Billionairekind
Jeff Bezos is not the only billionaire interested in space exploration — Elon Musk's SpaceX has launched NASA astronauts to the International Space Station and Richard Branson's Virgin Galactic reached an altitude of 55 miles this May — but Bezos will be the first of his wealthy peers to go to space.
"It's an adventure," the 57-year-old said in a video posted with the announcement. "It's a big deal for me."