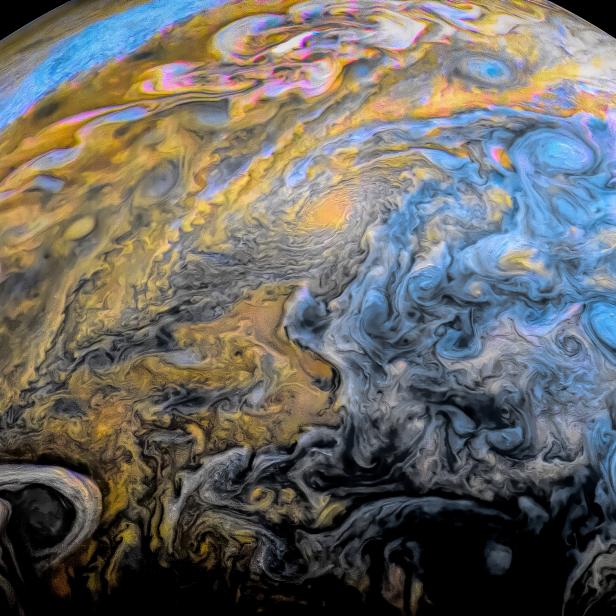 1082049576
Image of planet Jupiter taken by the Juno Mission. The image has been enhanced and edited by the Contributor as per NASA request in the Juno Raw Images Website. Changes include: Increased texture, dynamic range, changes in color and saturation of different areas. The result offers the personal perspective of the contributor on what Jupiter is. Original raw image was provided by NASA
Jupiter Makes Its Closest Approach to Earth in Nearly 60 Years
The last time Jupiter appeared this large and bright in the sky was in October 1963.
Our solar system's largest planet is making its closest approach to Earth simultaneously at opposition, creating the most ideal viewing conditions in decades on September 25.
The gas giant will reach about 367 million miles from Earth. About 300 million miles closer than when Jupiter is at its farthest point from Earth. Although Jupiter's opposition is common, occurring every 13 months, it rarely coincides with its nearest approach to our planet, known as perigee. This year, the closest approach occurs on Sept. 25 with opposition on Sept. 26.
Lowell Observatory explains, "The term opposition indicates when a planet is opposite the Sun from Earth, a time when the planet and Earth also generally make their closest approach to each other. Jupiter is in opposition every 399 days, a little more than once per year."
Not only is Jupiter fascinating to observe, scientists believe studying the massive planet could provide more clues to how the solar system formed.
With its Great Red Spot and 79 identified moons, Jupiter has captured the human imagination ever since Galileo made his first detailed observation of the stormy planet in 1610.
NASA's James Webb Space Telescope captured new images of Jupiter revealing never-before-seen details of the planet.
During its perigee, the gas giant will appear unusually bright and large in the sky. Binoculars or a small telescope are recommended for the best viewing opportunity. For increased visibility, set up somewhere with high elevation, dark skies, and dry weather.