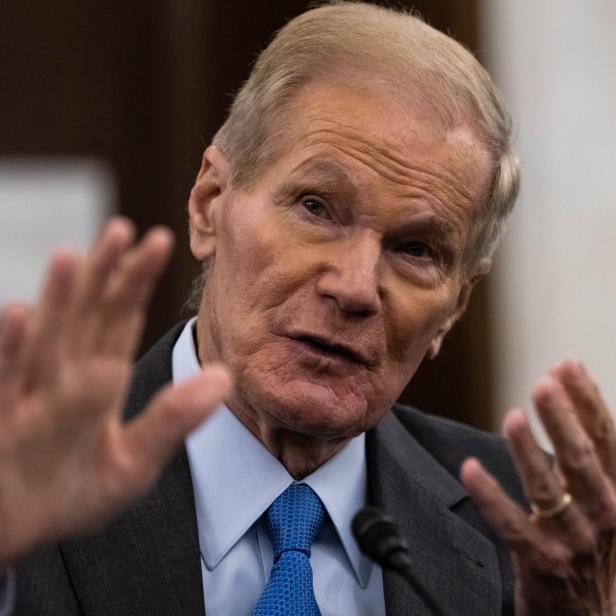 1232439478
WASHINGTON, DC - APRIL 21: Former US Senator Bill Nelson, nominee to be administrator of NASA, testifies during a Senate Commerce, Science, and Transportation Committee nomination hearing on April 21, 2021 in Washington, DC. Nelson was a senator representing Florida from 2001-2019. (Photo by Graeme Jennings-Pool/Getty Images)
The Head of NASA Believes in Aliens
"Are we alone? Personally, I don't think we are," Bill Nelson, former astronaut and Chief of NASA, said in a video interview.
Bill Nelson, who previously served as a US senator, was recently nominated as the 14th Administrator of NASA by President Joe Biden.
His interview with CNN came after the long-awaited Pentagon UFO report. While the report didn't reveal any evidence for life beyond earth, it also failed to explain over 99% of the UFO sightings on record.
After reading the unclassified UFO report, Nelson said, "My feeling is that there is clearly something there." Although Nelson doesn't explicitly say aliens are behind the recent UFO sightings, he does think it's likely they exist somewhere in the universe.
"We don't know the answer to what those Navy pilots saw," Nelson added. "Now they know that they saw something. They tracked it, they locked their radar on to it, they followed it, it would suddenly move quickly from one location to another. And what the report does tell us that is public is that there have been over 140 of these sightings."
The report refers to UFOs as unexplained aerial phenomena, or UAP. NASA has been searching for life on other planets for decades, and now are joining the Department of Defense in the search to explain these UAP sightings.
In the past, UFO research has been stigmatized as a fringe topic rather than legitimate science. With the sudden public interest in UFOs after the Pentagon report, scientists have hope UFO research will be pushed to the forefront again. As interest in UFOs increases, public perception is changing. Nelson doesn't want to encourage conspiracy theorists but rather continue to search the skies for life beyond earth.
"Remember, the universe is so large," Nelson continued, "We have a program in NASA called the search for extraterrestrial intelligence. But thus far, we don't have any receipt of communication from something that's intelligent."
Nelson restated NASA's commitment to keep searching for life beyond the stars. Recently, James Webb teased the launch of a new $10 billion telescope that hopes to help scientists dig deeper and unlock the mysteries of the universe.