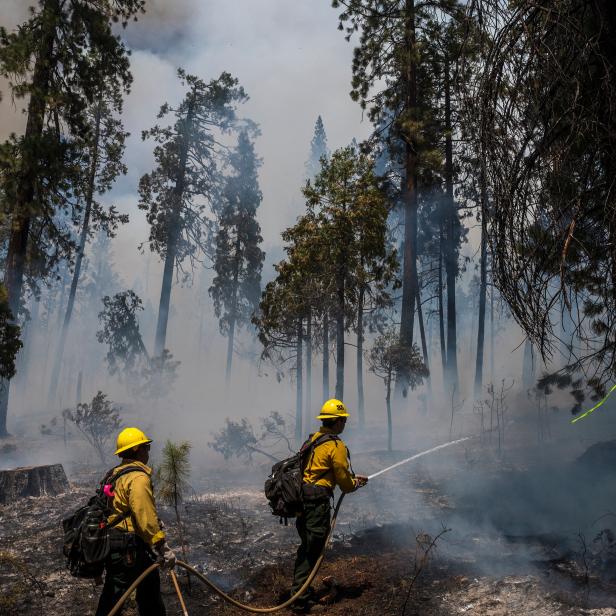 1241848353
TOPSHOT - Firefighters put out hot spots from the Washburn Fire in Yosemite National Park, California, July 11, 2022. - Hundreds of firefighters scrambled Monday to prevent a wildfire engulfing an area of rare giant sequoia trees in California's Yosemite National Park. The Washburn fire, in the Mariposa Grove of giant sequoias, was first reported on July 7 and doubled in size over the weekend to 2,340 acres (946 hectares), according to a park report. Yosemite's fire management service said 545 firefighters were battling the blaze, including "proactively protecting" the grove -- the largest sequoia grove in Yosemite, with over 500 mature trees. (Photo by Nic Coury / AFP) (Photo by NIC COURY/AFP via Getty Images)
Wildfires in Yosemite National Park Threaten Centuries-Old Sequoias
The Washburn Fire at Yosemite National Park is threatening over 2,000 acres of giant sequoia trees that have been in the park for centuries. Firefighters are racing to contain and manage the wildfire to protect the history park, its inhabitants, and ancient tree life.
The Washburn Fire began on Thursday and threatens the lives of some of the oldest and tallest trees in the world. Within the southernmost part of the park, the fire is active within Yosemite's most popular sequoia area, Mariposa Grove. This area houses the iconic, Grizzly Giant standing at over 200 feet tall and 2,700 years old. The Grizzly Giant gets the special sprinkler treatment and protection, a firefighter with Yosemite Fire and Aviation Management explained, "We're trying to give it preventative first aid and make sure that if the fire comes here that this tree is protected — that is, to cool flames and to increase the relative humidity and decrease the fire behavior around this tree."
This 'proactive protection' of trees within the area is a part of the emergency responder's efforts to remove fire fuels like dead trees or bushes from the area and install sprinkler systems to increase humidity on the ground. The emergency teams also have been using bulldozers to clear plant life that might be fueling the wildfire.
Over the weekend, the fire was very active amid dry heat and ranged over 2,340 acres. On Monday, Yosemite Fire and Aviation Management stated that the fire has grown to over 3,221 acres with around 22% containment.
Anadolu Agency
A photo shows the Washburn Fire burning in Yosemite National Park forced the closure of the South Gate entrance Yosemite South Gate, CA, United States on July 11, 2022.
More than 600 fire crew personnel are on the scene, using bulldozers to clear lines and cutting away at the brush to stop the fire's advancement. However, their efforts are complicated by a hot and dry weather spell in the area. As the fire moves towards more steep, remote, and densely wooded areas, firefighters will be working in more hazardous areas.
Although the cause of the fire is unknown, firefighters continue to try to increase containment within the area.