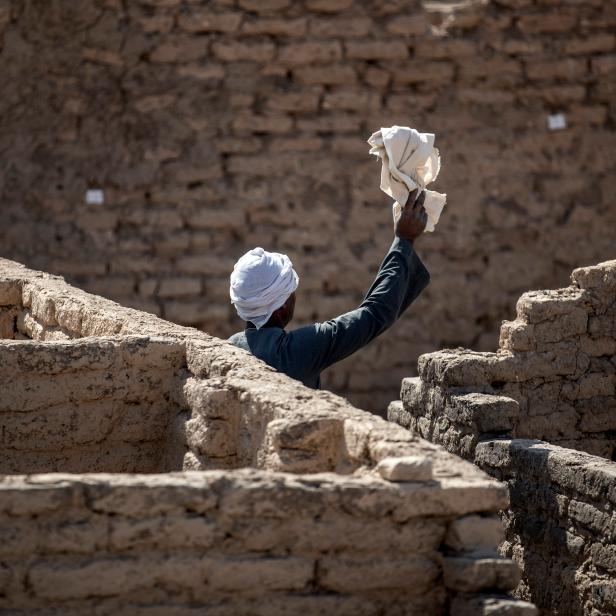 1232215630
LUXOR, EGYPT - APRIL 10: Workers at the site of a 3000 year-old lost city on April 10, 2021 in Luxor, Egypt. Egyptian archaeologists have discovered Aten or "the lost golden city" which is believed to be the largest ancient city ever discovered in Egypt and one of the most important finds since the discovery of Tutankhamun's tomb. The 3000 year-old city which dates back to the reign of Amenhotep III was discovered near Luxor. After seven months of excavations the team unearthed several neighborhoods which included, a bakery and administrative and residential districts. Jewelry, pottery vessels, scarab beetle amulets, and rooms filled with tools of daily life were also found giving archaeologists a rare glimpse into ancient Egyptian life.(Photo by Mahmoud Khaled/Getty Images)
3,000-Year-Old Lost City Found in Egypt
3,000-year-old city of Aten has been discovered to be the next best "extraordinary" finding since the tomb of boy king Tutankhamen.
The beauty of our world is that there's still much to be discovered! In recent days, a 3,000-year-old "lost city" was found in Egypt, known as the city of Aten. Egyptologists and archaeologists alike are calling this the most significant find since the tomb of the boy king Tutankhamen.
The lost city is believed to be established by the ninth king of ancient Egypt's 18th dynasty, King Amenhotep III. Aten is theorized to be the largest administrative and industrial settlement in that era, nestled in the southern city of Luxor, according to The Washington Post. The unearthing of this city unlocks a rare look into ancient Egyptian life at a time when the empire was at its wealthiest, a member of the mission added in a statement. Archaeologists hope this "extraordinary" discovery will aid them in better understanding past civilizations and their respective day-to-day lifestyles.
A new Egyptian discovery by Dr. Zahi Hawass has revealed an ancient mystery that remained unsolved for centuries. The incredible findings of Dr. Zahi Hawass and his team will air in an all-new special coming to discovery+.
The excavation process began back in September between the temples of Amenhotep III and King Ramses III. Ironically, the initial objective was to find King Tutankhamen's mortuary temple, the archaeological mission explained in a statement. The statement disclosed that "within weeks, to the team's great surprise, formations of mud bricks began to appear in all directions. What they unearthed was the site of a large city in a good condition of preservation, with almost complete walls, and with rooms filled with tools of daily life." The artifacts, as well as the city, looked as if they were left behind the other day.
As the team walked through this unearthed city, they began to uncover what was left, and are still continuing to do so. The city was found to be filled with homes, some with walls nearly 10 feet high. Hieroglyphic inscriptions were found on wine vessels, rings, scarabs, pottery and mud bricks, which happened to be sealed with King Amenhotep III's cartouche, which enabled the team to date the city to its pastime.
Mahmoud Khaled
Zahi Hawass, Egyptian archaeologist, Egyptologist, and former Minister of State for Antiquities Affairs at the site of a 3000 year-old lost city on April 10, 2021 in Luxor, Egypt.
From the time the city was discovered to now, several areas have been unveiled and identified within Egyptian culture. According to the mission statement, a bakery and large complete kitchen with ovens and pottery to store food were found. What archaeologists believe to be a governmental or administrative district was also found, which they theorize was used for security because it was "fenced in by a zig zag wall" with a single entrance. A third area was identified as a workshop. The statement also explained the team also found casting molds to produce amulets and ornaments, apparently for temples and tombs. Spinning and weaving has been discovered to be a daily activity based off of the tools found in excavated areas.
As more and more artifacts are being discovered, the archaeological team is hopeful to "uncover untouched tombs filled with treasures."