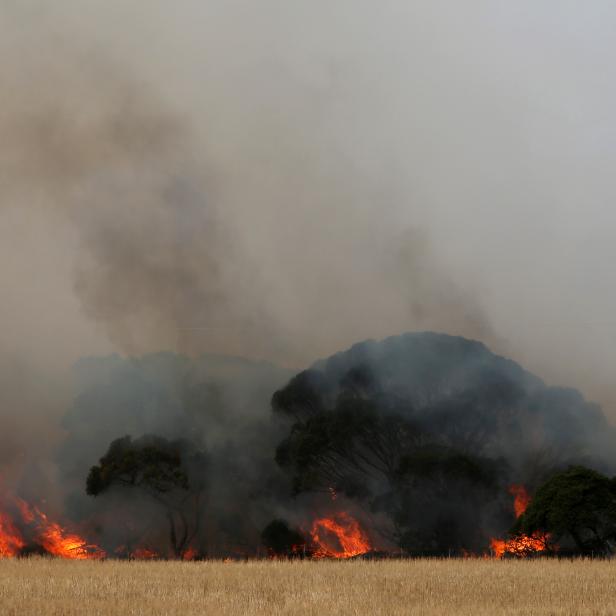 1198828031
KANGAROO ISLAND, AUSTRALIA - JANUARY 11: The Morris family and CFS firefighters battle bushfires at the edge of their farm on January 11, 2020 in Karatta, Australia. Currently 212,000 hectares of land has been burnt and over 100,000 sheep stock lost, along with countless wildlife and fauna due to the devastating bushfires which began burning on January 4th. The fires have claimed two lives and at least 56 homes with the town of Kingscote cut off as the Country Fire Service (CFS) continues to battle a number of out-of-control blazes. Roads out of Kingscote, on the island's north-east, are closed due to a watch and act warning. (Photo by Lisa Maree Williams/Getty Images)
10 Celebrities Who Are Making a Difference in Australia
With wildfires still blazing through NSW, Australia, celebrities have stepped in to donate what they can to help make a difference.
Many stars, like Russell Crowe, used the Golden Globes this past Sunday as a platform the emphasize the urgency of the matter. Others have taken to social media to announce the contributions they've made in an effort to encourage donations.
Chris Hemsworth posted to his Instagram on January 6, pledging a million dollars to the cause and urging his followers to "chip in too." Hemsworth added, "Every penny counts so whatever you can muster up is greatly appreciated."
Birds of Prey Star Margot Robbie posted a heartfelt video reminiscing about her childhood in Australia and asking her followers to donate any amount of money they can, even a dollar.
Hugh Jackman reminisced on a happier time, commenting, "Shout out to the late Steve Irwin's family - Terri, Bindi & Robert and all at the Australia Zoo for their extraordinary efforts in helping save the Australian wildlife."
Kylie Minogue and her family pledged to donated $500,000 "towards the immediate firefighting efforts and the ongoing support which will be required."
Metallica commented on their Instagram post in support of stopping the bushfires saying, "The resulting destruction and devastating effects on all residents, animals, the environment and the incredible land in Australia is truly heartbreaking."
Other celebrity support came pouring in on Twitter. A-listers, like Paris Hilton, are helping raise as many funds as they can.
At his Sydney show on Jan 6, Elton John pledged $1 million to support bushfire relief.
Bethenny Frankel is in strategy mode to figure out the best way to send her support.
Shawn Mendes posted to Twitter saying, "Every time I've been to Australia I've fallen more in love with the people & wildlife. Join me & support relief efforts for the devastating effects of the wildfires."
Simu Liu sent a reminder to his followers that "Australia is on fire and people are voluntarily risking their lives."