Is Climate Change Killing More Elephants than Poachers?
Kenya's Wildlife and Tourism Board has announced that climate change is now a bigger threat to elephant populations than poaching. Kenya is currently facing an extreme drought that is threatening the livelihoods of people and wildlife within the area.
Kenya has recorded 179 elephant deaths this year due to the extreme drought affecting parts of Kenya, Somalia, and Ethiopia. Poaching has been a longtime threat to elephant populations and it's become alarming how large climate change's effect is on these elephants. Najib Balala, Kenya's cabinet secretary for wildlife and tourism, spoke with the BBC saying that climate change is killing 20 times as many elephants as poaching.
The drought conditions have been devasting for wildlife around Africa, affecting elephants, warthogs, and giraffes. Studies have found that elephants go through dozens of gallons of water per day, estimating that elephants need to drink every two or three days to survive. Kenya's drought has been ravaging wildlife populations since about last year when many dead cattle, giraffes, and warthogs were found dead around dried-up watering holes.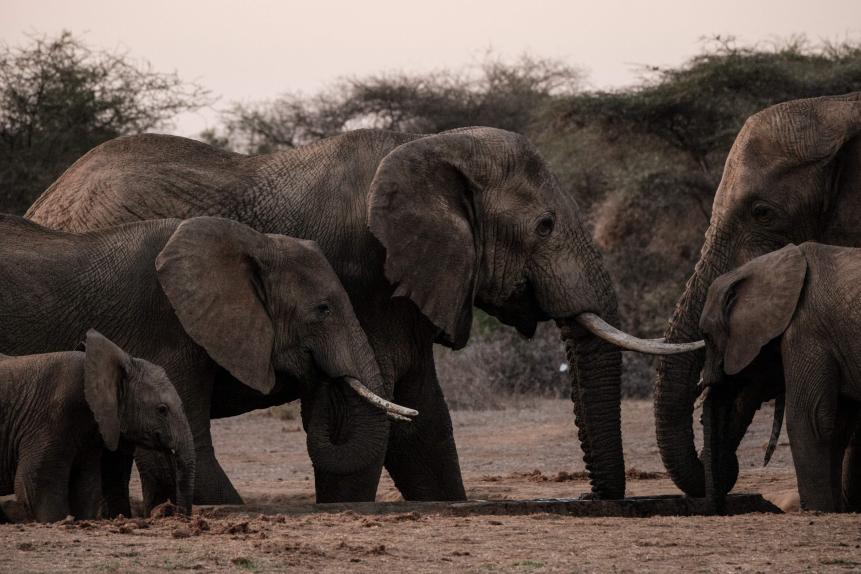 1241517852
Elephants drink water at a water point in Selenkay Conservancy, a community-owned conservation area running by a private company, in Amboseli, Kenya, on June 21, 2022. - The camp's ten luxurious tents see tourists flocking again, after the shutdown linked to Covid-19. They observe in small groups elephants, giraffes, antelopes or lions on 5,000 hectares, located on the edge of Amboseli National Park, in the south of the country, and have a glimpse of the life of the Masai, the owners of the land. (Photo by Yasuyoshi CHIBA / AFP) (Photo by YASUYOSHI CHIBA/AFP via Getty Images)
The African savanna elephant has long since been listed as an "endangered species" and is threatened by poaching, habitat loss, and weather extremes brought on by climate change. This profound change occurring in Kenya highlights an ever-growing climate change risk to wildlife populations around the world. The warming planet threatens wildlife from the Artic polar bears to the Kenyan elephants who rely on our earth to grow and thrive.