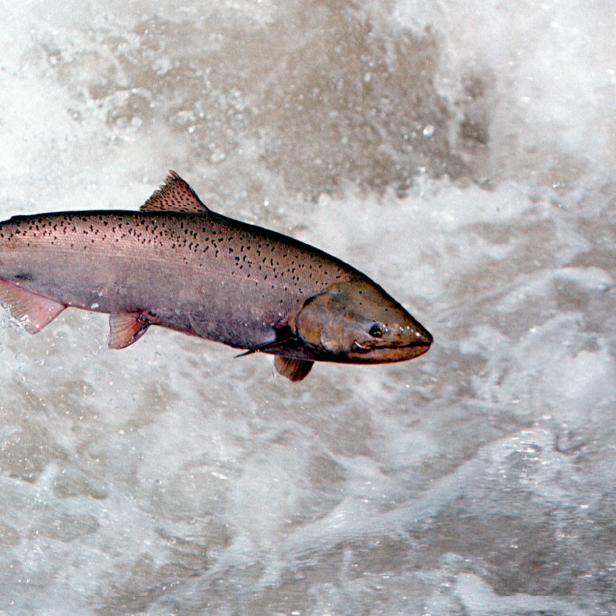 51093151
390122 04: A Chinook Salmon Leaps Through White Water May 17, 2001 In The Rapid River In Idaho As It Attempts To Clear A Migration Barrier Dam. Ideal Stream And Ocean Conditions Over The Past Two Years Have Resulted In A Record Number Of Chinook Returning To Their Spawning Grounds This Year. (Photo By Bill Schaefer/Getty Images)
Would You Eat a Genetically Engineered Fish?
There's something fishy about the upcoming release of bioengineered salmon.
Last year saw one of the poorest salmon returns on record in North America. Yet, we are eating more fish than ever before, and seafood consumption will nearly double by 2050. Aquaculture production has tripled in the last two decades to meet this need, and another historic move was made by the FDA earlier this year, when a company received the first ever nod to sell a genetically modified salmon - a bioengineered version of the Atlantic salmon.
US-based AquaBounty, the firm which received the go-ahead, said it would begin stocking fish in supermarkets "as soon as possible." The first commercial harvest is expected at the end of 2020. At the moment, Argentina, Brazil and China have also granted environmental approvals for genetically modified fish farming trials.
This genetically modified salmon is actually a fish injected with the DNA of two other edible fish. The long road to the current version of the GM fish began in the 1980s when a physiologist named Garth Fletcher read about the work being done to genetically modify mice and wondered whether it could apply to salmon. He understood that the fish's growth hormones are most active in some seasons and considered changing this so that the hormones are always active. Cut to 2019, where Fletcher's GM fish is able to reach adult size in 16 to 18 months, compared with 30 months for natural Atlantic salmon. While actually consuming 25% less feed.
In the United States, Atlantic salmon is endangered, so catching it is heavily restricted. It is currently imported from Chile, Norway and Canada. If the production and sales of AquaBounty go as planned, this will all change. And simultaneously, the company claims that farming the fish in their land-based hatcheries will lower the transportation cost as well as emissions associated with importing the fish as is currently done.
This has not all been without stiff opposition, and protestors - who have sent nearly 2 million comments to the FDA - have had issues on three main fronts. Health risks, being the main one, as it has been with several other genetically modified food in the past. The environmental group Earth Action says no one can predict what will happen when people start eating the fish over time.
AquaBounty has said that every fish is microchipped and tracked, and even if they did get passed their secure facilities, the modification has rendered almost all fish sterile.
GM fish have been decades in the making, but it will be hard to predict their long term effect. The planet definitely needs solutions for its overexploited fish, but it might be decades before we understand whether or not that solution is an engineered 'frankenfish.'