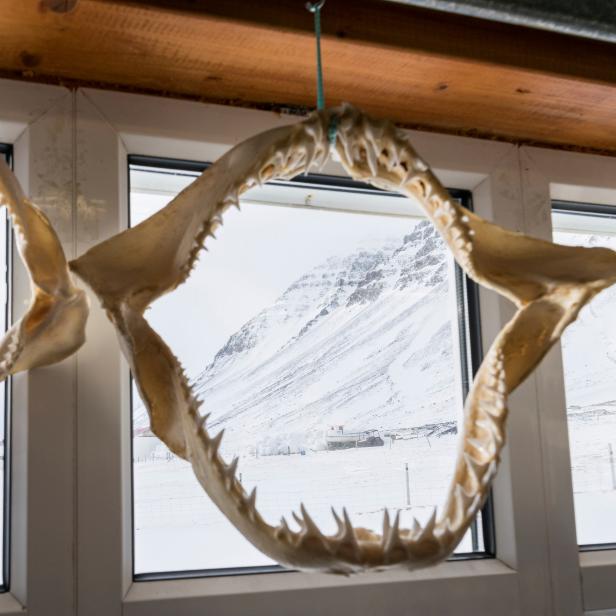 956976612
Bjarnarhoefn. a local museum dealing with the iconic local speciality Hakarl. fermented meat of the greenland shark (Somniosus microcephalus). a protected species and the life on Snaefellsnes. Europe. northern Europe. Iceland. March. (Photo by: Martin Zwick/REDA&CO/Universal Images Group via Getty Images)
Ancient Greenland Shark Found Thousands of Miles from Home, in Belize
The Greenland shark, one of the longest living animals on Earth, was surprisingly found in coral reefs off the coast of Belize. The Greenland shark most commonly lives in colder waters around Greenland and Iceland and can live to be over 500 years old.
Off the southern coast of Belize, a team of Florida International University researchers was surprised to find a unique-looking shark at the end of their reel. These scientists were working with Belizean fishermen to tag tiger sharks when they noticed an ancient-looking black shark.
A Ph.D. candidate at FIU's Predator Ecology and Conservation lab, Devanshi Kasana explained, "At First, I was sure it was something else, like a six-gill shark that is well known from deep waters off coral reefs. I knew it was something unusual and so did the fishers, who hadn't ever seen anything quite like it in all their combined years of fishing."
Kasana reached out to her professor when she realized their discovery was abnormal, and after conferring with several shark experts, they determined that it was most likely a Greenland shark or a hybrid of the Greenland and Pacific sleeper shark.
The Greenland shark excludes scientists and there is quite a bit more to learn about this slow-moving and slow-growing fish. From what scientists do understand, Greenland sharks tend to appear in the icy waters of the Artic and North Atlantic oceans. Their slow-moving tendencies may benefit the species, which have high estimated life spans. Because of the lack of understanding surrounding the Greenland shark, scientists speculate that Greenland sharks may lurk in waters across the globe, where they would be able to live at colder greater depths.
Kasana and the fishermen found the shark in waters where the depth could provide an environment conducive to a Greenland shark's needs. This area, the Glover's Reef Atoll, forms a steep slope that drops from 1,600 feet to 9,500 feet deep.
While Kasana and the research team never anticipated the Greenland shark sighting, their discovery shows how the unexpected can pave the way for new learnings.