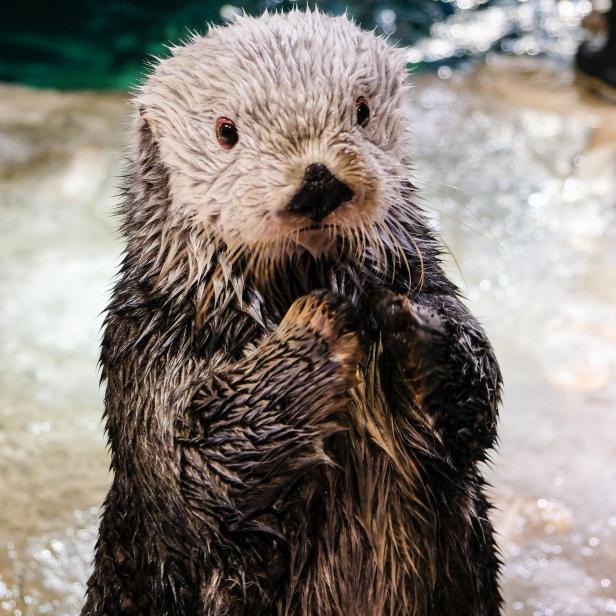 Another endangered species at Georgia Aquarium is the southern sea otter, which is considered a keystone species because they help maintain the health of kelp forests by preying on sea urchins. Sea otters were once hunted to the verge of extinction and current threats include entanglement in fishing nets, oil spills, and predation by great white sharks.
Caring for Endangered Species at Georgia Aquarium
Georgia Aquarium is proud to care for over ten different endangered species, from small poison dart frogs to the largest fish in the sea, whale sharks. Every day, these animals face natural threats as well as human impacts, and as their numbers decrease it affects our planet's ecosystems.
The research teams at Georgia Aquarium understand the importance of helping these animals and work diligently to increase our knowledge and understanding of these species to create better conservation practices.
While the research teams at Georgia Aquarium often travel to the native environments of these species to aid in conservation efforts, much of their work in done at home. The Aquarium works to understand factors threatening these animals in the wild so that steps can be taken to help them. By observing the animals they care for every day, Georgia Aquarium's research teams can learn vital information about the behaviors, diets, and habits of these species in ways that would be impossible in their natural habitat.
A great example of this is the endangered whale shark – Georgia Aquarium is the only aquarium in the Western hemisphere to care for whale sharks. Aquarium veterinary staff and researchers study the whale sharks in their Ocean Voyager exhibit every day, including their growth, behavior, health, and genetics. This data will help researchers to better understand and care for whale sharks both on exhibit and in the ocean. Georgia Aquarium was the first to fully sequence the whale shark genome and hone the technique for taking blood from a whale shark underwater.
How do aquariums care for and contribute to the conservation of endangered species? To celebrate World Oceans Week, Georgia Aquarium takes us behind the scenes to learn more about the endangered species that call the aquarium home.
Through their research, effective conservation, research, and education programs have been developed that are essential to the survival and sustainability of endangered species. Georgia Aquarium is committed to continuing their work with the endangered species both in their care and in natural habitats, as a part of their mission to inspire awareness and preservation of our ocean and aquatic animals worldwide. To learn more about the research and conservation efforts at Georgia Aquarium and around the globe, visit georgiaaquairum.org.