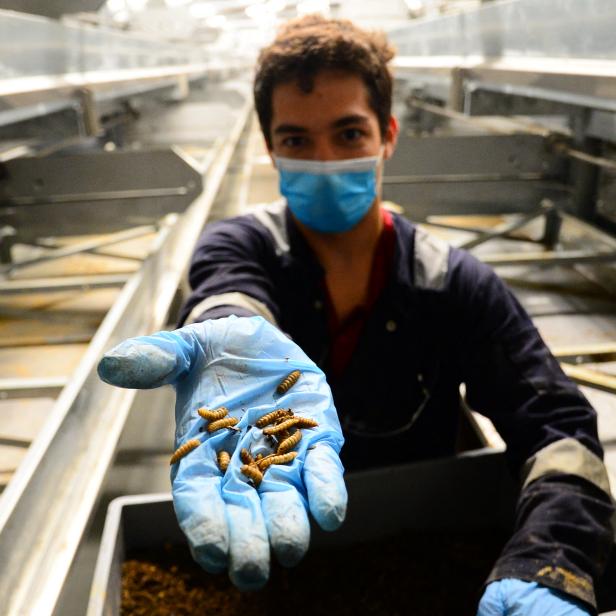 1233020980
An operator shows Hermetia Illucens flies in Protifly's premises in Saint-Maurice-sur-Adourla on May 21, 2021. - Fly larvae to feed fish: like a handful of others in France, the Protifly company, based in the Landes region, started breeding insects to produce ultra-rich protein meals to feed livestock, a promising market. (Photo by MEHDI FEDOUACH / AFP) (Photo by MEHDI FEDOUACH/AFP via Getty Images)
Insect Feed Can Transform the Farming Industry
Feeding insects to farm animals could be the environmental revolution that the livestock industry has been waiting for. Insects, a rich source of protein and part of the natural diet for pigs, poultry, and fish, use a fraction of the land and water needed to raise soybeans for feed and produce lower carbon emissions.
It takes around one hectare (2.5 acres) of land to produce a metric ton of soy each year, but the same area could grow nearly 140 metric tons of insects. Cutting back on soybeans or corn for compound animal feeds can also reduce deforestation, especially in important areas like Brazil and the Amazon rainforest, where trees are slashed to expand cropland.
In 2020, compound feeds for pigs, poultry, and fish made up more than 75 percent of the animal feed market. The US alone produced 216 metric tons out of a global total of 1.2 billion. Livestock eats around one-third of global cereal production, some of which could be used to feed people instead. Reducing land use and the crops fed to livestock transforms the global food system and makes it more sustainable, according to a United Nations report.
Insects can be fed on food waste, abattoir scraps, and manure, helping turn it into high-quality protein. And because they do not need much space, they can be reared on farms in small-scale units like cargo containers. British startup Better Origin packs its containers with food waste and black soldier fly larvae that grow up to 5,000 times their initial body mass in just two weeks.
Each X1 unit can feed up to 32,000 hens, the larvae harvested and given to animals without any processing or additives. Better Origin says the effect of replacing soy and recycling food waste in just one unit prevents 150 metric tons of carbon dioxide emissions. More importantly, it says, the way food waste is converted into animal feed makes the process circular.
Startup companies like Better Origin are joining a buoyant market, with approval for insect feeds granted to firms in North America and the European Union. US food giant Cargill has tapped into the sustainable insect feed market by partnering with InnovaFeed to supply fish farms with black soldier fly larvae.
Speaking at a conference in 2014, the UN Food and Agriculture Organization assistant director-general Eduardo Rojas-Briales said insects are a crucial part of the climate solution. "The time is ripe to think about alternative sources of food in view of a growing world population," he said. "Insects alone will not solve the world's food security challenges but it would be absurd not to mobilize their full potential in the fight against hunger and malnutrition."