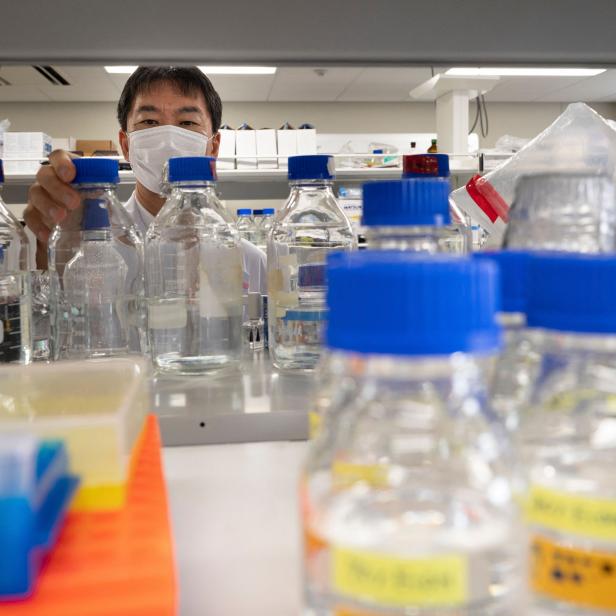 1235245926
This picture taken on July 30, 2021 by AFPBB News shows immunology professor Toru Miyazaki working in his laboratory at the University of Tokyo. - As the coronavirus pandemic hit the economy last year, scientists at the University of Tokyo lost their corporate funding for a study on preventing kidney disease in cats. But thousands of Japanese cat lovers mobilised online to donate to the researchers after an article about their plight by news agency Jiji Press went viral. - Japan OUT / TO GO WITH JAPAN-ANIMAL-SCIENCE-CATS-OFFBEAT --- RESTRICTED TO EDITORIAL USE - MANDATORY CREDIT - "AFP PHOTO / AFPBB News / Yoko AKIYOSHI" (Photo by Yoko AKIYOSHI / AFPBB News / AFP) / Japan OUT / TO GO WITH JAPAN-ANIMAL-SCIENCE-CATS-OFFBEAT --- RESTRICTED TO EDITORIAL USE - MANDATORY CREDIT - "AFP PHOTO / AFPBB News / Yoko AKIYOSHI" / Japan OUT / TO GO WITH JAPAN-ANIMAL-SCIENCE-CATS-OFFBEAT --- RESTRICTED TO EDITORIAL USE - MANDATORY CREDIT - "AFP PHOTO / AFPBB News / Yoko AKIYOSHI" (Photo by YOKO AKIYOSHI/AFPBB News/AFP via Getty Images)
These Scientists Created Robots Covered in Living Skin
Japanese scientists created a self-healing skin for robots. This breakthrough study brings Westworld-like robots one step closer to reality.
Is a dystopian future closer than we think?
At the University of Tokyo, researchers have bioengineered a robotic finger that is covered in human skin, which is water-repellent and self-healing. Using human skin cells, scientists have successfully created a robotic finger that replicates the real look and feel of human skin. This bioengineered skin was found to be water repellent and self-repairing when harmed with minor abrasions and wounds. The skin's ability to repair itself when injured replicates living organisms' skin.
In the recently published journal, the scientists explained that the bioengineered skin was created by first using a mixture of collagen and human dermal fibroblasts. The robotic finger is then submerged into the skin solution to give the body part the realistic look of skin.
Shoji Takeuchi, a tissue engineer and lead author of this study, expressed his belief that "living skin is the ultimate solution to give robots the look and touch of living creatures since it is exactly the same material that covers animal bodies." Takeuchi and his colleagues believe that their biohybrid invention could help to create realistic-looking robots that work within the medical care and service industry. The humanlike appearance of these robots is an important piece in ensuring that robots appear approachable.
Although, the first version of the skin is much weaker than our natural skin and is not able to survive without nutrient baths and waste removal, Professor Takeuchi and his team are hopeful about their research. They plan to address their current issues as well as add in more complex features like sensory neurons, hair, nails, and sweat glands.