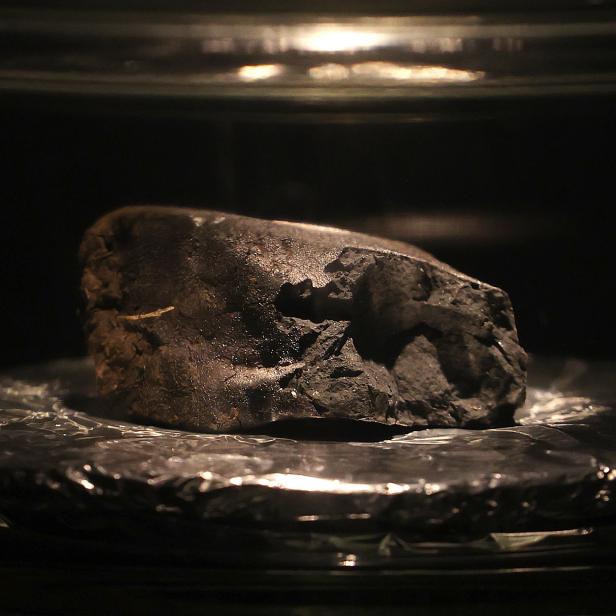 1317787868
LONDON, ENGLAND - MAY 13: The Winchcombe meteorite sits on display at the Natural History Museum on May 13, 2021 in London, England. The meteorite is a rare type, the first to fall in 30 years. The Natural History Museum re-opens to the public on Monday 17th May. (Photo by Chris Jackson/Getty Images)
Winchcombe Meteorite Unlocks Secrets of Early Solar System
Winchcombe is the sort of quiet English market town where life trundles along unremarkably day after day. So when a meteorite landed in the middle of a housing estate on the evening of February 28, 2021 it caused a rare and unexpected sensation.
This particular carbonaceous chondrite rock originated in the asteroid belt between Mars and Jupiter 4.6 billion years ago, and was the first meteorite recovered in England for 30 years. Its trajectory to the surface was tracked by the UK Fireball Alliance, set up by the Natural History Museum to find meteorites that land in the UK.
When it landed on the Wilcock family's driveway at 9.54pm on a cold winter night, it went almost unnoticed until the following day. Its fiery trail was followed by a network of meteor cameras that plotted a path to its final impact. Scientists correctly guessed that fragments of the fireball would survive the intense heat and computers analyzed data to predict its landing site.
On Monday morning, mother and daughter Cathryn and Hannah Wilcock noticed a small pile of dark power and rocks and realized it related to reports of a meteor sighting. Experts verified the debris as a meteorite and 300 grams (0.7 lb) were gathered up from the site.
That may not sound like a lot, but NASA's seven-year mission to the B-type asteroid Bennu in the outer asteroid belt will bring back only 60 grams. Meanwhile, Japan's Haybusa2 mission to the asteroid 162173 Ryugu produced a mere five grams. By those standards, this is a copious amount of space rock and didn't cost a penny, because it landed in our backyard, while Hayabusa2 cost $150 million.
Rocks from outer space are not actually retrieved that often once they enter our atmosphere, despite the quantities that fall to Earth each year. As much as 48.5 tons (44,000 kg) of material including rock and space dust, falls to Earth every day. And up to 84,000 objects weighing more than 10 grams touch down each year.
Of course, 90–95% of meteoroids burn up in the atmosphere and most that reach the surface fall in the ocean, or in vast uninhabited regions like the deserts or Antarctica's glaciers. In the South Pole these objects are easy to pick out because they stand out against the snow and ice.
Only 4-5% are like the Winchcombe rock, a so-called primitive meteorite, unchanged since the solar system was formed. Carbonaceous chondrite contains quantities of organic compounds that form the building blocks of life and may give clues to how life began on Earth.
Records of the find will be kept by the international Meteoritical Society, which is dedicated to research and education about planetary science and meteorites. And for anyone interested in seeing 3D digital reproductions of NASA's lunar rocks and Antarctic meteorites from ANSMET, the Astromaterials 3D online library has scans of each rock with precise data on their origins.