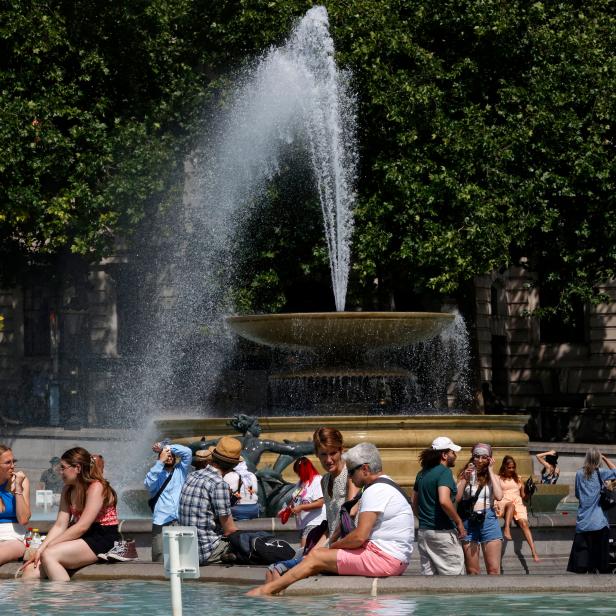 1241364944
People cool off beside the fountains in Trafalgar Square in central London on June 17, 2022, on what is expected to be the hottest day of the year so far in the capital. - A Level 3 Heat-Health alert for London, the East of England and the South East has been announced to help protect health services, the UK Health Security Agency (UKHSA) has said, Friday. (Photo by CARLOS JASSO / AFP) (Photo by CARLOS JASSO/AFP via Getty Images)
UK Records Its Hottest Day Ever Amidst Europe's Heat Wave
The United Kingdom broke heat records this Tuesday, with the U.K.'s Meteorological Office reporting that temperatures exceeded 104 Fahrenheit (40.2 Celsius) for the first time. With searing heat across Europe and North Africa sparking wildfires throughout the country, Britain declares a national emergency.
The UK's previous highest temperature was set in 2019 at 101.7 Fahrenheit (38.7 Celsius), and on this record-breaking Tuesday, the UK's Met Office found that around 29 observational sites had exceeded the previous record. After an extreme heat warning was issued for the first time, Met Office chief scientist Stephen Belcher explained that this temperature change in Britain is "virtually impossible" without human-driven climate change. Belcher further warns that "we could see temperatures like this every three years" without serious intervention and action on our current carbon emissions.
In the UK, the high temperatures have also led to heat-related deaths, with closures of businesses, schools, and travel. With a majority of buildings and homes not equipped with air conditioning, a heat wave this severe is highly unusual in a country known for its rain and fog.
Major train stations were closed or near empty on Tuesday because of cancellations and rail operation concerns. In London, fires were on the rise due to dry heat, with half of the 10 major incidents being caused by grass fires.
Originating in North Africa, the soaring temperatures spread to Europe, fuelling wildfires in Portugal, France, and Spain. Currently, Paris is also facing extreme heat, measuring 40.5 Celsius (104.9 Fahrenheit) the second-highest in history. In southwestern France, wildfires continue to spread through drier pine forests within the area.
Climate experts warn that climate change has increased the likelihood of extreme weather and warn that this heat will be a wake-up call for governments around the world to take action.