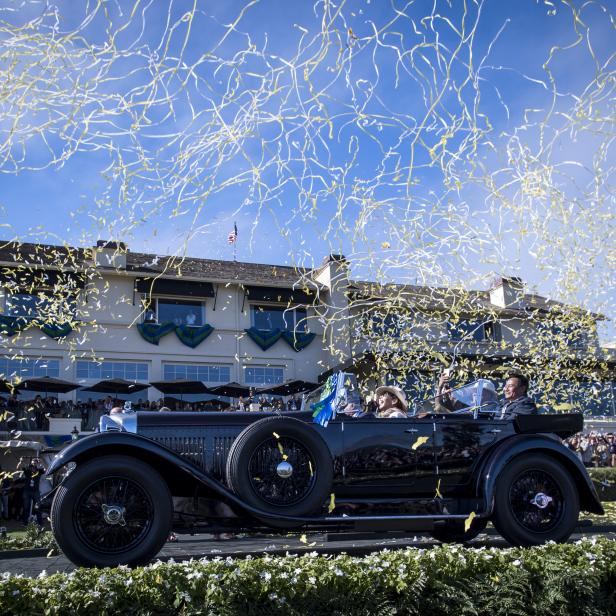 1162632190
Confetti falls a 1931 Bentley 8 litre Gurney Nutting Sport Tourer, owned by Michael Kadoorie, chairman of Hong Kong And Shanghai Hotels Ltd., after winning the Best of Show award at the 2019 Pebble Beach Concours d'Elegance in Pebble Beach, California, U.S., on Sunday, Aug. 18, 2019. More than 20,000 car enthusiasts gathered for the Pebble Beach Concours D'Elegance, where total auction sales are expected to bring in $378 million this year. Photographer: David Paul Morris/Bloomberg via Getty Images
Round-Up: 2019 Pebble Beach Concours d'Elegance
Bentley takes top honors at the Monterey car show, while Porsche Type 64 auction causes bidding chaos.
Sunday's 69th annual Pebble Beach Concours d'Elegance car show brought a bit of old, a bit of new, and a bunch of drama to the Monterey car week.
In a sea of impeccable classics, the Best Of Show award went to a 1931 Bentley 8 Liter Gurney Nutting Sports Tourer owned by the billionaire Sir Michael Kadoorie of Hong Kong, who purchased the vehicle in 2010. The car was one of six 8-liter Bentley competing in the show, of only 100 ever built.
Fitting the first Bentley win since 1965, the British manufacturer is currently celebrating its 100th birthday, or "Centenary" as the company calls it. W.O. Bentley founded Bentley Motors in August 1919 with the original 3 Litre model.
Brightly color concept cars dotted the lawn among a field of pristine classic supercars. Volkswagen displayed the ID. BUGGY alongside the likes of BMW's Vision M concept and the Karma SC1 Vision concept.
This years' auctions sales are expected to bring in nearly $378 million; however, the block was fraught with drama throughout the weekend. The biggest blunder making rounds was a botched auction on Ferdinand Porsche's 1939 Type 64 Nazi car that resulted in No Sale.
"As bidding opened on the Type 64, increments were mistakenly overheard and displayed on the screen, causing unfortunate confusion in the room," the company said in a statement. "This was in no way a joke or prank on behalf of anyone at RM Sotheby's, rather an unfortunate misunderstanding amplified by excitement in the room."
Much controversy surrounded the vehicle prior to its Sotheby's debut, as the auctioneers catalogued the vehicle as a "true Porsche." While the car was made by Ferdinand Porsche himself, the silver coupe preceded what is widely accepted as the first Porsche, the 1948 365 Gmünd Coupe.
Find more coverage of the 2019 Pebble Beach Concours d'Elegance on MotorTrend.