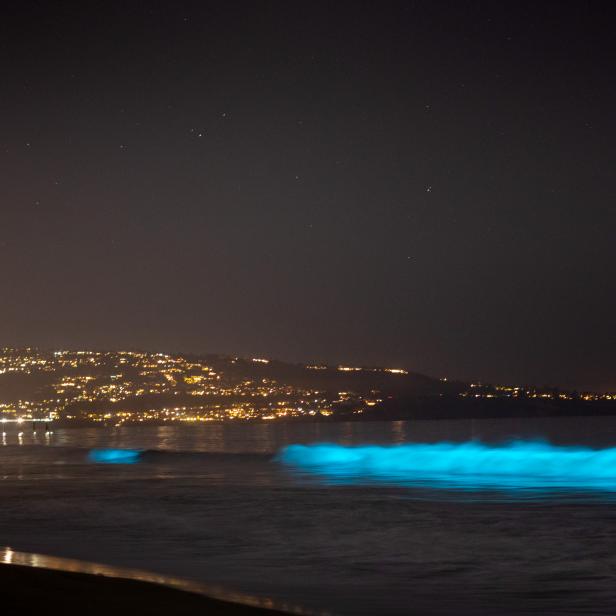 1211044200
HERMOSA BEACH, CA - APRIL 25: Bioluminescent waves glow off the coast of Hermosa Beach, CA, Saturday, April 25, 2020. The phenomenon is associated with a red tide, or an algae bloom, filled with dinoflagellates which react with bioluminescence when jostled by the moving water. During the daytime, due to the pigmentation of the dinoflagellates, the water can turn a deep red, brown, or orange color, giving red tides their name.(Jay L. Clendenin / Los Angeles Times via Getty Images)
California's Ocean is Neon - and It's All Natural!
The California coastline is glowing and it's not a trick of the imagination. Nature is putting on a show and it's all thanks to some of the smallest organisms on the planet.
Bioluminescent plankton are lighting up beaches from Baja all the way up to Los Angeles. These tiny, single-celled organisms are called dinoflagellates. When they become concentrated in large groups, they discolor the ocean water, resulting in the red tides that are visible during the day. California is currently experiencing a sizable bloom of these plankton, which is causing the amazing bioluminescent phenomenon at night.
The glow emitted by the dinoflagellates is meant to be a defense mechanism to ward off predators and attract other animals that would prey on their predators. Large amounts of movement in the water trigger the plankton to light up which is why crashing waves and playful dolphins look otherworldly.
Joe Scarnici
SAN CLEMENTE, CALIFORNIA - APRIL 30: A surfer rides on a bioluminescent wave at the San Clemente pier on April 30, 2020 in San Diego, California. (Photo by Joe Scarnici/Getty Images)
Red tides are difficult to predict and can last anywhere between one week to one month. According to scientist Michael Latz from the Scripps Institute of Oceanography at UC San Diego, red tide events are increasing locally and globally, but more research is needed to understand exactly why.
For now, the coast continues to light up at night, and Mother Nature proves once again, that she is the ultimate showstopper.