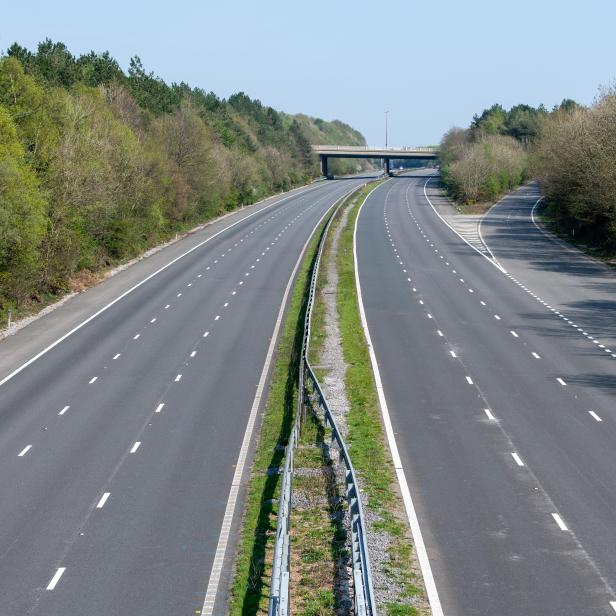 1218026483
BRIDGEND, UNITED KINGDOM - APRIL 10: A view of a quiet M4 motorway at Bridgend on April 10, 2020 in Bridgend, United Kingdom. Police have stepped up patrols to prevent people from travelling to beaches and beauty spots over the Easter weekend. The Coronavirus (COVID-19) pandemic has spread to many countries across the world, claiming almost 97,000 lives and infecting over 1 million people. (Photo by Matthew Horwood/Getty Images)
Clear Skies During Lockdown is a Pandemic Upside
With almost all of the world under lockdown, cars are off the roads and the smog is disappearing in some of the planet's most polluted atmospheres.
From Asia to Europe to North America, the blue skies are back.
In India, which has the world's biggest lockdown with 1.3 billion people ordered to stay home, has resulted in the country's traffic slashed to almost nothing and big industries put on pause.
In the capital of New Delhi, which has some of the most pulluted air in the world, clear horizons are abound and residents taking selfies out of pure shock. India's central pollution control board said 85 of the country's cities had had an improvement in their air quality just during the first week of lockdown.
And perhaps nowhere is more apparent than the majestic Himalayas, where residents in Jalandhar, in the northwestern state of Punjab, could see the snow-capped peaks more than 100 miles away for the first time in "decades".
For 16 out of the 17 days since the lockdown was announced, the state registered as "good" on the country's national air quality index. In contrast, the same week in 2019 registered not one "good" quality air days.
In China, NASA and the European Space Agency (ESA) detected huge decreases in nitrogen dioxide over China.
For example, over the city of Wenzhou, mountains could be seen in the distance after factories were shuttered. In Hubei province, the average number of "good quality" air days increased 21.5% in February compared to the same period last year, according to China's Ministry of Ecology and Environment.
And in Southern California, the view from Echo Park in Los Angeles to Downtown, and beyond to the mountains has been something to behold. Not only that, but Angelenos can see Catalina Island from Griffith Park, perhaps a sight that hasn't been seen by most, if any.
Over in Europe, Italy's Po Valley has seen a notable decrease in smog, an area that's one of the continent's most polluted. The effect of COVID-19 on air quality in Lombardy has also been notable: nearly a 10% decrease in the concentration of NO2 per week over the month of March.
England's capital London has been attempting to tackle its air pollution issue for years, and now the National Center for Atmospheric Science at the University of York say that there has been a "significant" decline.
"Air quality has started to improve in many UK cities, mirroring what has been seen in other countries that have restricted travel and levels of outdoor activity," Alastair Lewis, professor of atmospheric chemistry, told Fortune.
It's not only at daytime that people are seeing clear skies, but at night the stars are twinkling brightly.
In the south of the country, astrophotographers have taken advantage of there being very few planes to capitalize on the uninterrupted views of the galaxy.
"There are simply no airplanes to ruin the photos," Trevor Pitt told CNN. "I've actually almost become a vampire because I've spent so much time out at night."