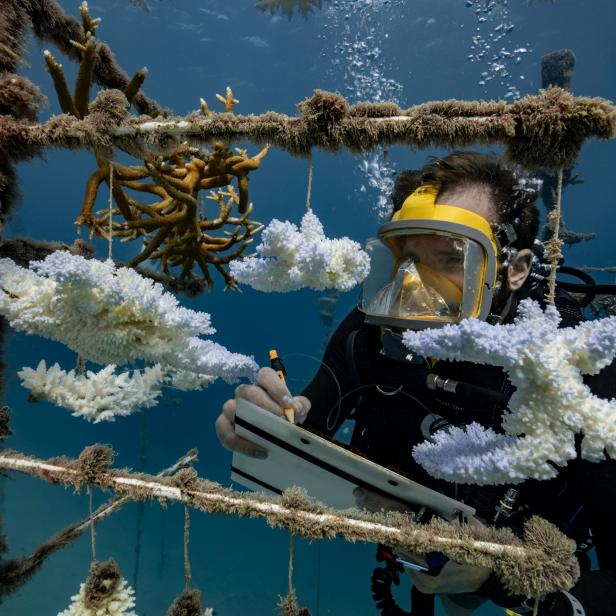 1148857837
FRENCH POLYNESIA - SOCIETY ARCHIPELAGO - MAY 09: A diver looks at one of the coral nurseries on the coral reefs of the Society Islands in French Polynesia. on May 9, 2019 in Moorea, French Polynesia. Major bleaching is currently occurring on the coral reefs of the Society Islands in French Polynesia. The marine biologist teams of CRIOBE (Centre for Island Research and Environmental Observatory) are specialists in the study of coral ecosystems. They are currently working on "resilient corals", The teams of PhD Laetitia Hédouin identify, mark and perform genetic analysis of corals, which are not impacted by thermal stress. They then produce coral cuttings which are grown in a "coral nursery" and compared to other colonies studying the resilience capacity of coral. (Photo by Alexis Rosenfeld/Getty Images).
Coral Reef Survival Relies on Gene Science and Lower Emissions
Coral reefs across the world are under threat as global warming raises sea temperatures and the oceans become more acidic from absorbing carbon dioxide. While nations work to reduce industrial greenhouse gases, including carbon dioxide, helping coral to adapt to changing conditions could provide welcome relief for affected reefs.


Reef-building hard corals that lay down calcium carbonate as a skeleton foundation for reefs are also less productive in acidic conditions. Despite only covering 0.2 percent of the ocean floor, reefs support at least 25 percent of marine species, as well as providing food and economic security for hundreds of millions of people.
In 2021, the United Nations reported a 14 percent loss of corals across the world largely from rising sea temperatures in the previous 13 years. Australia declared mass bleaching events in 2022 across large parts of the Great Barrier Reef, the fourth since 2016. Global satellite data showed higher than usual ocean temperatures between 2015 and 2017 had caused an unprecedented three-year bleaching event in reefs across the planet.
Reefs in Hawaii, Florida, and the Caribbean were all severely affected, but thankfully some coral areas were not. Scientists looked into the characteristics of these corals and their ecosystems to see how others could be protected. Warm water reefs in the tropics are the worst affected by bleaching, but they also contain corals with better heat resistance.
Research is focused on finding genes for heat tolerance so that they can be passed on to future generations. Biologists mix corals that are more resilient to higher temperatures with those that are not and the resulting hybrid generation has a better chance of survival. They are also investigating crossbreeding algae that live inside corals to see if more heat-resistant strains can be introduced.
Researchers in Florida's reefs have been using ocean nurseries to replant coral with batches that contain genes resistant to heat, acidification, and disease. Those areas have recovered within a year.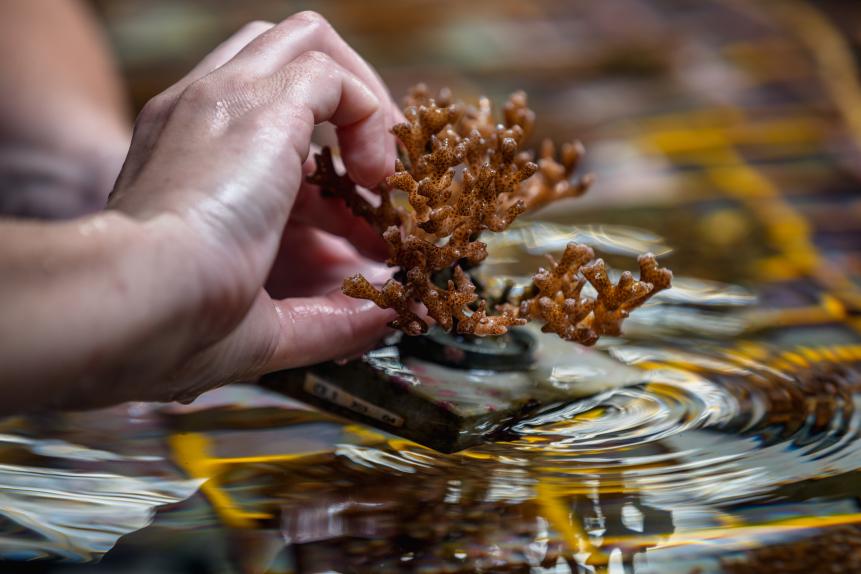 1227936149
QUEENSLAND, AUSTRALIA - 2019/10/17: At Australian Institute of Marine Science, scientist are trying to breed corals that can withstand higher water temperatures. In the quest to save the Great Barrier Reef, researchers, farmers and business owners are looking for ways to reduce the effects of climate change as experts warn that a third mass bleaching has taken place. (Photo by Jonas Gratzer/LightRocket via Getty Images)
Other projects like Revive and Restore are using methods like preserving older coral populations' sperm and eggs (biobanking) and using corals with better adaptability characteristics in breeding. The project also believes that boosting biodiversity by restoring seabirds to islands, and ridding them of invasive species like rats, helps coral reefs thrive.

Ultimately, scientists say that without a serious reduction in greenhouse gas emissions, 99 percent of the world's coral reefs will be gone by the end of the century. There is a limit to how quickly coral can adapt, especially given the rate of climate change. Computer simulations have shown that mild or moderate warming allows coral to adapt, but if temperatures rise rapidly then extinction is certain.