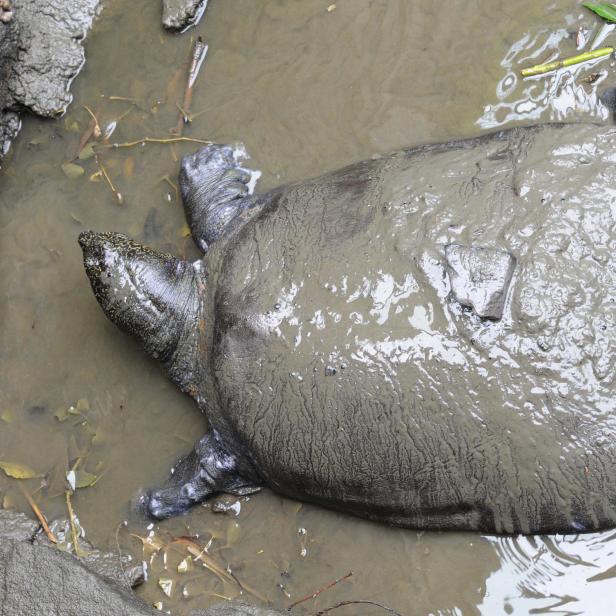 472390130
SUZHOU, CHINA - MAY 06: (CHINA OUT) A female Rafetus swinhoei (also known as Yangtze giant softshell turtle) is seen in the mud at Suzhou Zoo on May 6, 2015 in Suzhou, Jiangsu province of China. Organized by Wildlife Conservation Society (WCS), Turtle Survival Alliance (TSA) and China's Institute of Zoology (IOZ), artificial insemination in a pair of the only left one-hundred-year-old Rafetus swinhoei was conducted in southeast China's Suzhou Zoo and gained success which meant that there existing hope to save the world's largest freshwater turtle species. Rafetus swinhoei is an extremely rare species of softshell turtle found in Vietnam and China. Only four living individuals are known and it is listed as critically endangered in the IUCN Red List. (Photo by Visual China Group via Getty Images/Visual China Group via Getty Images)
New Discovery May Save Nearly Extinct Turtle Species
After the 2019 loss of the last confirmed female Swinhoe Softshell Turtle in China, extinction was all but confirmed. But a new discovery gives hope to the species: a female turtle living in a lake in Vietnam.
In 2019, the Swinhoe Softshell Turtle, also known as the Yangtze giant softshell turtle among other names, suffered a major loss despite all conservation efforts. A female turtle perished after an insemination procedure leaving her mate at a zoo in China alone.
After this incident, researchers looked to the wild to try to bring this softshell turtle back from imminent extinction. There was some hope, evidence of one additional turtle of unconfirmed gender in the Dong Mo lake in Vietnam. After months of speculation, it was announced that this large lake-dweller was in fact female.
The research involving the Swinhoe softshell turtle has spanned years in Asia. This species can grow up to over 350 lbs and six feet long and live 100 years-or more. Fishers tasked with the protection of the turtles have done great work, as researchers and conservationists work towards improving the habitats in the wild.
There is still a long way to go to bring back this species from the brink of extinction, but steps are being taken to consider how to perpetuate this species beyond two lone turtles existing in two different countries.
Since 2012, December 4 has been World Wildlife Conservation Day. Here are some facts about the species that are currently designated as Critically Endangered. World Wildlife Conservation Day came out of a pledge by the US State Department to protect wild animals by encouraging protections for species all over the world.